In Grey and Bruce counties, we have been lucky to weather Covid-19 relatively well but it continues to impact our daily  lives and business practices.  We have received many inquiries from buyers and sellers who are unsure of how to proceed with their real estate plans, given the current (and possible future) lockdown. We hope the following information will help to clarify how Covid-19 is affecting the business of real estate.
As per the previous lock-down earlier this year, real estate is considered an essential service and day-to-day business will continue to be permitted under the "lockdown" regulations with some common sense adjustments
During the Lockdown period…
Realtors and staff are encouraged to work from home where possible. We are pleased to be able to say that as we were already proficient at using online business options, so this will not impact the service we provide or how we do business and our clients will not notice any substantial change in how we do things.
The Flesherton Royal LePage RCR office will be open to realtors, staff and essential visitors only.  A sign-in sheet is located at our office's front desk. Everyone entering the premises must sanitize their hands, don masks and gloves before entering and sign in upon arrival.  
The Lockdown regulations specify that real estate property showings must be conducted by appointment only. This is how we have always handled showings. However, Covid-19 screening forms must be completed and submitted before showings can be confirmed. This has also been an ongoing practice since spring 2020 and will not present an obstacle for our clients.
Our Brokerage permits showings with the Buyers listed on the Agreement of Purchase and Sale and their service providers only. This means showings are limited to Buyers and their agent. If necessary, service providers such as a Home Inspector or property appraiser can also be accompanied by the agent after a Covid-19 screening form has been completed and submitted. Additional family members and friends of Buyers are encouraged to view the property virtually, by means of photos and virtual tours.
Masks and gloves are mandatory for all property showings and must be worn by everyone who is entering the property.  Our office has a supply of gloves and masks and can provide them for clients who are unable to bring their own.
In-person Open Houses are not permitted.  Virtual Open Houses and virtual showings can be scheduled through individual agents. This is a service I am happy to provide whenever possible for clients who contact me to make arrangements ahead of time.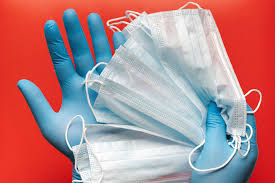 Following health and safety protocols during this time is extremely important. If you have any questions or concerns that are not addressed in this post, feel free to contact me directly.
Covid-19 has resulted in new protocols and procedures but it has NOT put a stop to your ability to buy or sell a property and it will NOT prevent us from continuing to work hard to HELP OUR CLIENTS and provide the BEST POSSIBLE CUSTOMER SERVICE!