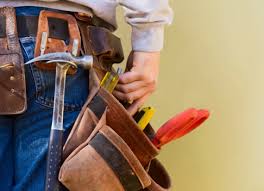 You've decided to sell your home but recognize the need to freshen things up a bit before listing.  Wondering which are the best jobs to tackle to get your home ready to sell?  In order to attract buyers right from the start, you have to present your property in it's best possible light, which usually means a bit of a tune-up is required.  Is it possible to make your home look better in a short amount of time without spending too much money?  Believe it or not, there are some relatively easy and inexpensive DIY jobs that can have a big impact on your home's appearance and go a long way with buyers.
First thing's first.  The single most effective thing you can do to prepare your home for the market is to get rid of clutter.  De-cluttering makes your home look more spacious, won't cost you a cent and can usually be done fairly quickly.  Want to take things one step further? Try rearranging the furniture to make the most of available space.  This may mean moving some things to another room in the house or even to another location altogether (hopefully friends or family will have some space you can use temporarily in a basement or spare bedroom) but it will be worthwhile if the extra space results in a buyer being interested in your home.
Decluttering Part II – Clear off your counters. Available counter space (or a lack of it) is something that buyers notice right away.  Too much stuff in the kitchen makes it look messy and cramped. Cleared counters give an appearance of order, cleanliness and calm.  Make an effort to keep counters in the kitchen and bathroom as free of "stuff" as possible.  Buy a few streamlined and stylish baskets or bins (look for some with lids) for an easy and effortless way to corral belongings and minimize clutter.
Time to get out your paint brushes.  Painting is one of the fastest, easiest and cheapest ways to freshen up a room. Conventional wisdom states that your colour choice should be restricted to neutral shades in order to appeal to the highest number of potential buyers but that doesn't have to mean beige.  Also think about finishes; mattes and eggshells remain popular due to their ability to camouflage flaws.  When it comes to mouldings and trim, stick with basic crisp shade of white.
Upgrade your interior doors and hardware.  There will be some cost to this but it is well worth it.  A new, modern door will do wonders. Trust me, it's a change I made in m y own home!  White panelled doors are a safe and popular bet and metallic knobs finish off a fresh new look. We all get plenty of fliers in our mailboxes these days; scan them regularly to find sales and promotions at big box stores and building centres.
Does your home have old, worn-out carpeting? Get rid of it!  If you live in an older home, you may be pleasantly surprised by what you find underneath that carpet.  If your place is more modern and doesn't hold any happy flooring surprises, at least you've removed a common source of dirt, allergens and odour.  What's the first reno job many new buyers will take on?  Removing old carpet.  Now they don't have to because you've just taken care of that for them, making your home that much more attractive to many potential buyers.  Again, this task comes with some initial cost but it is economical when you look at the impact it can have on the return you realize once your property is sold to the highest bidder!