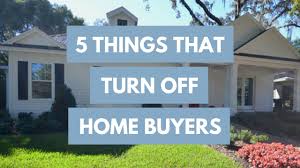 Spring is traditionally a busy time in real estate, with sellers getting their properties ready to put on the market and buyers waiting to find the right place for their new home.  If you're planning to sell, its important that you present your property in it's best light right from the start.  You know what they say, "you never get a second chance to make a first impression".  In order to make that first impression a positive one, home owners should do what they can to avoid these buyer turn-offs.
An untidy exterior
Speaking of first impressions…  The real first impression is made before a buyer steps inside your home.  What will they think when they drive up the road and see your property for the first time?  Curb appeal can make all the difference to a buyer so it is important to keep the lawn and garden neat and tidy, keep the exterior of the house in good shape and put away hoses, toys or anything else that could make the property look messy.  They don't have to be out of sight, just neatly stored and out of the way.  A couple of colourful potted plants or hanging baskets never hurt either!
Strange smells
When you've lived with certain odours for a while, you stop noticing them.  Unfortunately, buyers will notice them the minute they walk through the front door.  Lingering cooking smells, pet odours, cigarette smoke, etc can all turn off a buyer before they've even seen the full house.  If an odour can be removed by a thorough cleaning (think a litter box or pet accidents) get that cleaning done and done well.  In warmer weather, open windows before showings to let in some fresh air.  Try fabric refresher spray or air fresheners if necessary but remember that less is more.
Unusual paint colours
Different colours can have strong connotations and even evoke positive or negative feelings.  For example, yellow tends to be seen to be sunny, blues are calming and red is used in Italian restaurants because it stimulates the apetite.  Your goal is to make your property feel warm and welcoming to every potential buyers who walks in.  Keep in mind that some people can overlook your choices and envision the home the way they would decorate it but some can't.  Make it easy on potential buyers and go with a tasteful colour scheme that will appeal to the majority.
Dirt
We all know that life is busy and it's difficult – if not impossible – to keep your house spotless all the time but if that house is up for sale, it should be as clean as it can be every time a buyer wants to see it.  Pay special attention to the kitchen and bathrooms as things like soap scum or a sink full of dirty dishes will get noticed every time.  If your appliances are going to be included in the sale, make sure they are sparkling.  Clean the inside of the dishwasher, toss any leftovers or take-out containers you've got in the fridge and set the oven to self-clean.  With any luck your spotless house will attract the attention of a serious buyer relatively quickly and you can go back to "real life" soon.
A yucky basement
To some degree, the state of the basement may be beyond our control but a damp, dingy basement full of cobwebs can be a definite turn-off.  Again, cleaning can make a substantial difference to the over all appearance.  Sweep the floor, wipe up any dust and brush away and spiderwebs.  If you're using the basement for storage, get your belongings organized in Rubbermaid tubs or on a shelving unit.  This will help buyers get a truer sense of how much space there is.  Adding an extra light source can go a long way towards making the space feel usable as well.