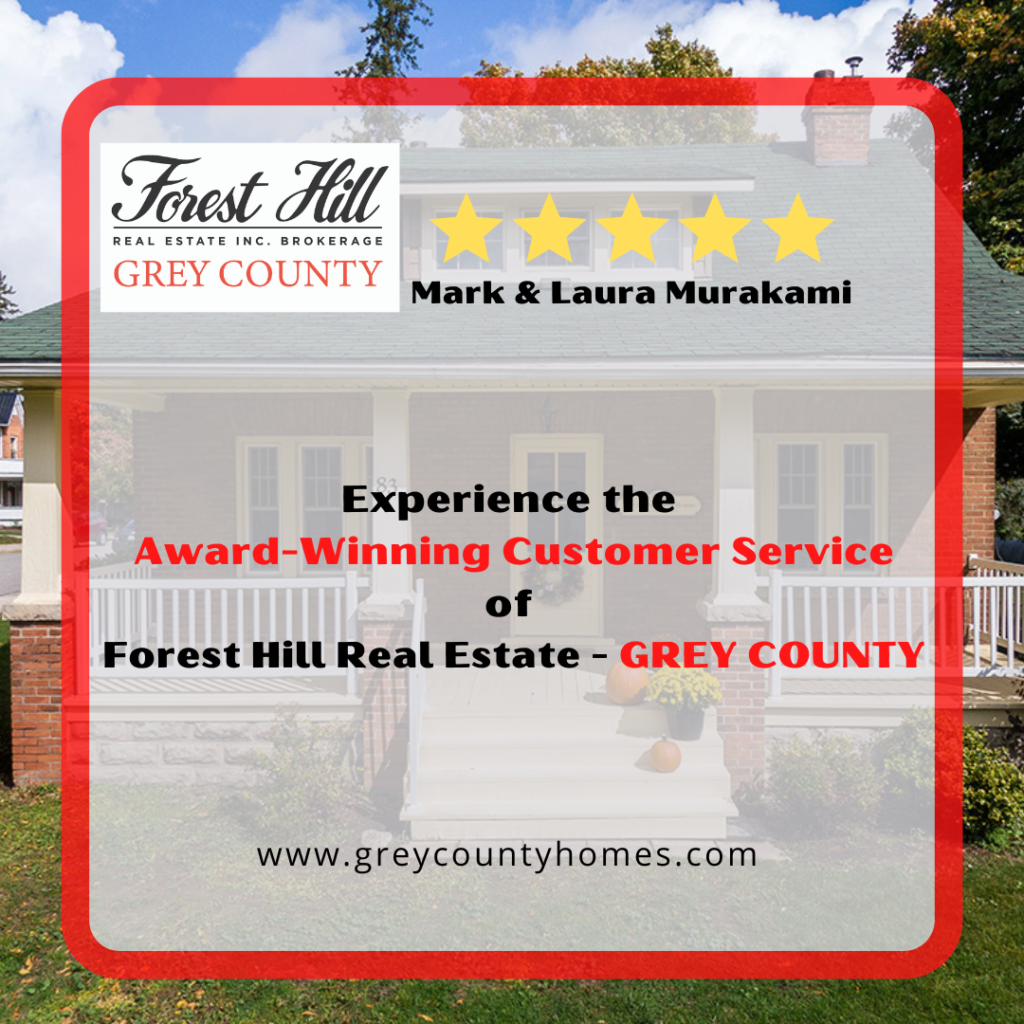 At Forest Hill Real Estate –

GREY COUNTY

we firmly believe that customer service matters. We are well aware that real estate is a highly competitive field (now more than ever!) and that agents need to set themselves apart if they hope to attract new business. Most agents try to come up with their own creative ideas about how to do that effectively. At our brokerage, we focus on one simple thing: providing you with the best customer service possible. We do our very best to go above and beyond our clients' expectations from the first time we meet to discuss their plans right through to the end of their purchase or sale. Honesty, integrity, putting the client first and maintaining open and regular communication – that's just how we do things. Award-winning customer service is what sets up apart!
space
We know you want a Realtor® who is efficient, effective, responsive and who always keeps your best interests in mind and we work hard to make sure we meet your highest expectations. You don't need to take our word for it though, take a look at what our clients have to say about the services we provide:
space
"Could not have asked for a better real estate agent. Fast, helpful and very efficient. This experience of selling was our best ever!"
J Nielsen
space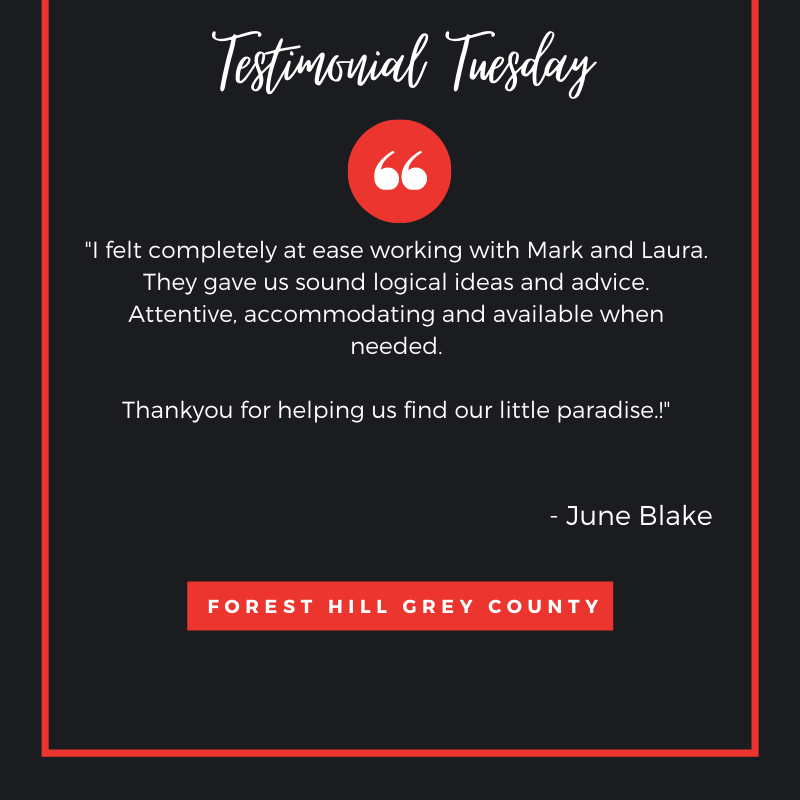 space
"Mark and Laura had assisted us with the purchase of our home in Markdale 4 years ago. We were so impressed with their integrity and great service we listed our property with Mark this spring. They were very professional and made sure our needs were met with respect and sincerity. Mark is always available to answer questions and is very honest and trustworthy . We appreciated all that you've done to ease with a stressful home selling process without stress! Thank you Mark and Laura for a job well done!!"
D & R Percy
space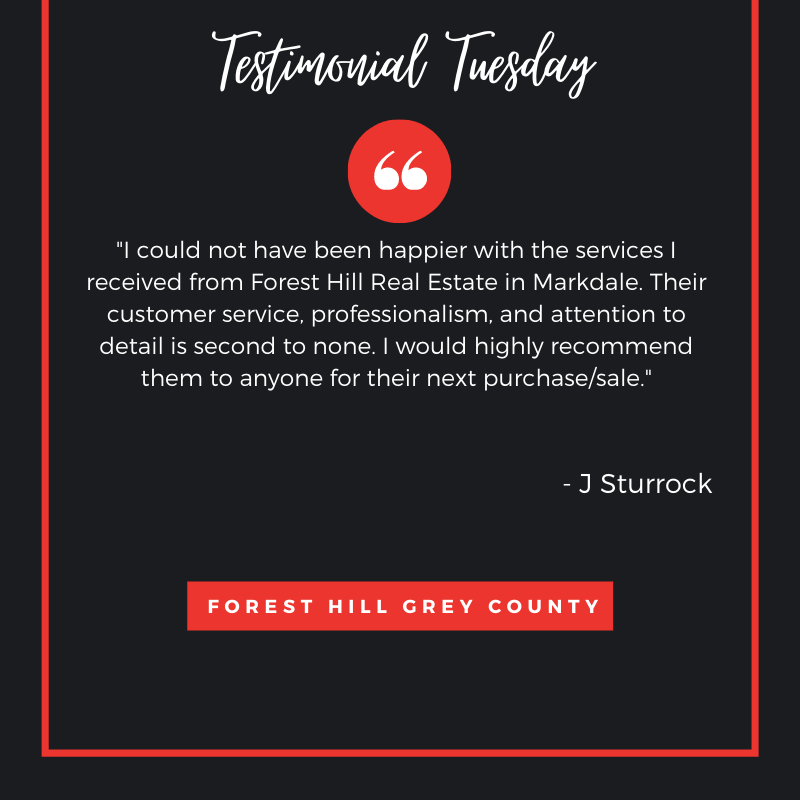 space
"We worked with Mark to purchase a property earlier this year and have nothing but great thing to say about our experience. He was able to find and show us houses that we hadn't seen with other agents and found a little gem of a house that we fell in love with and eventually bought. He was patient, responsive and a fantastic resource throughout the process. He and his wife Laura were incredibly helpful in providing tips and recommendations about buying a home in the area as my husband and I were from out of town."
C Bergeron
space
space
Before opening our own Forest Hill brokerage in Markdale, Mark worked at a different local brokerage where it became clear that both buyers and sellers were looking for an agent who would go above and beyond to represent them at the highest levels. Providing that superior level of service quickly became our focus and we are very proud to say that these efforts paid off in 2017 when Mark was named the
inaugural winner of the
Award for Excellence in Customer Service.
space
space
"We recently used Mark and Laura as our agents for the sale of our property in Grey County. We found their services to be friendly and professional. We would highly recommend them to anyone buying or selling a property."
D & J Bowerman
space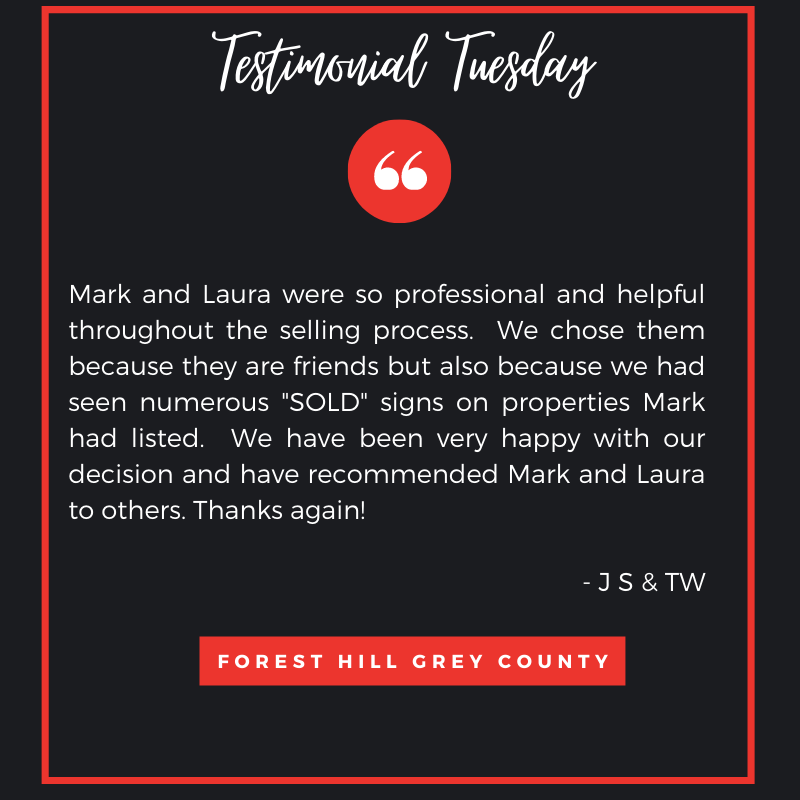 space
"Mark was very thorough in going over every detail of the offer we received for our property. He is professional and friendly and easy to talk to. We would not hesitate to refer him or list a property in the future with him. Laura sent emails confirming all our discussions. Extremely satisfied with their service."
H & L Reaburn
space
space
That award-winning customer service is still our top priority and we believe its what separates us from our
competition. It's also why so many of our clients have become good friends of ours – it's never just about the transaction, it's the relationship that matters. If you're interested in a real estate team who
will make your satisfaction their primary focus, we invite you to take a look at
our Google Reviews
and then
contact us
to see what
Forest Hill Real
Estate –
GREY COUNTY
can do for you!