I wasn't always a coffee drinker.  Until I was about 35, I never touched the stuff.  In fact, when the K-cup/coffee pod craze took off, my mother in law offered to buy us a Keurig machine for Christmas and we declined because we figured we'd never use it!  I don't know when it happened but at some point my family began to drop into Tim Horton's fairly regularly…I think it was because Tim's is an easy place to get a cheap, relatively healthy meal that you know young kids will eat…and I quickly developed a coffee habit.  I'd have to say that Timmy's is still one of our favourites but there are quite a few places in our small corner of Grey County where you can get a fantastic cup of coffee and support local business at the same time.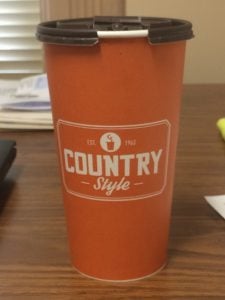 My morning habit these days is to drop in to the COUNTRY STYLE at the Esso gas station in Flesherton.  Long time locals know it as "Ho Ho's".  Danny runs the place these days and the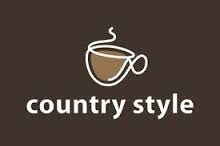 coffee counter seems to do a pretty steady amount of business.  If you're there at around 9:00am most week days, you'll likely see me in line, along with quite a few other local regulars.  The service is great and the coffee is served just the way I like it.  Nothing fancy, just regular coffee that's always hot, fresh and hits the spot every time.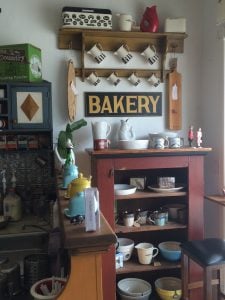 If I need a 3:00pm pick-me up, I often make my way over to THE BAKERY in Flesherton, which is just down the street from my office at Grey Road 4 and Highway 10.  Jim and Nancy Currie and the girls behind the counter (including my middle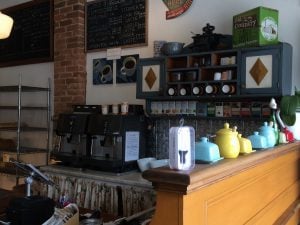 daughter Grace) never disappoint, with a selection of fresh baked treats and just about any variation of coffee you can imagine always available.  As I mentioned, I tend to stick to plain old regular coffee but you can get a Mocha, Cappuccino, Americano, etc. as well as a wide variety of other drinks both hot and cold.  Your coffee is brewed freshly when you order it, it doesn't come from a previously brewed carafe or coffee pot.  And if you ask nicely, things like almond milk, cocoa, cinnamon and flavour shots are available, too.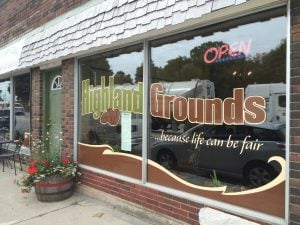 HIGHLAND GROUNDS is another great spot on Highway 10 in Flesherton for snacks, a light meal or a good hot drink.  Owner Shawn Ankenmann strongly believes in supporting local producers of all kinds of goods and in ethical business pract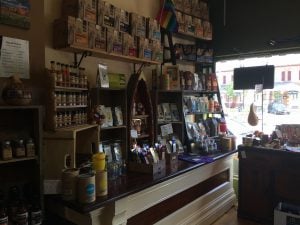 ices, so fair-trade coffee is available in a wide variety of incarnations; Ethiopian to Tanzanian to French Roast and the list goes on.  Highland Grounds also carries local inventory such as Creemore Coffee and an assortment of teas in both loose leaf form as well as tea bags.  My wife says there's nothing better on a drizzly or cool morning that a Highland Fog, which is tea made with steamed milk and a vanilla flavour shot.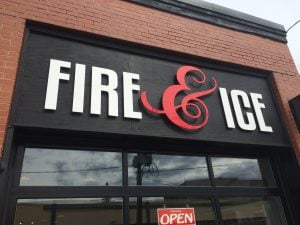 FIRE AND ICE in Markdale (also right on Highway 10) has become a popular location for pub style meals, live music and a beer and they seem to be equally busy through the day with customers dropping in for a coffee break.  Owner Chris Steel roasts and grinds his coffee on the
premises, and many custom blends are available.  Starbucks-type flavoured coffee drinks are available here as well and you can choose from espresso based beverages or pre-brewed dark or medium roast blends, depending on how strong you like it.  My eldest daughter Maggie worked at Fire and Ice until recently and couldn't help but develop an appreciation for coffee as a result.  I guess when you're around that great aroma and have the ability to create any variation you can think of, you'll find one that you enjoy.
No matter how you like your coffee, or even if you prefer a different beverage altogether, Grey Highlands gives you no shortage of options when it comes to cafes, coffee shops and places to grab a bite and a drink.  To those of you who live here, I encourage you to support your local small businesses as their success is our success.  To those of you who are passing through, I encourage you to make a pit-stop at one of these fine establishments to see for yourself the quality of both the wares and the people who prepare them for you.  You won't be disappointed.  Unless you're in line behind me and I get the last drop!