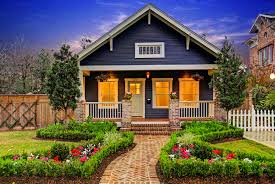 In today's world, most home buyers begin their property search in one place – online.  And if, after viewing your home online, potential buyers like what they saw, they're more likely to drive by or  schedule a showing so they can see your property for themselves.  How can you capitalize on this to make sure that buyers WILL like what they see of your home?  Put your best foot forward by improving on your curb appeal!  Even if you're not quite ready to sell, keeping your property looking it's best goes a long way towards maintaining what is likely your biggest investment.  Show the world that you're proud of your property by taking good care of it!  Not sure where to start?  Here are some suggestions:
Wash The Home's Exterior
The back of my own home gets less direct sunlight than the front.  The result, after a wet spring and dewey summer mornings, is that we sometimes get little tiny pieces of moss stuck to the siding in the shaded areas.  Whether this happens at your property or not, the exterior will have collected dust, cobwebs and day-to-day dirt.  Rent or borrow a pressure washer to remove this stuff and freshen up your home's exterior.  While you're at it, wash the windows, clean out the gutters and eaves of anything that accumulated over the winter and hose down garage doors.
Paint Where Necessary
Once the house is clean, a fresh coat of paint can go a long way towards making it stand out from the crowd.  Not able to do that kind of job yourself?  There are local contractors and student-run services in the area who are only too happy to quote you for the job.  Even if all you tackle is painting the front door, trim, shutters and any decorative elements, it will give the whole house a face lift that others will notice.  And don't be tempted to skimp out on the job by skipping necessary prep work!  Scrape off any loose paint, sand where necessary and make sure to choose the right type of paint for the job.  After all, you want your hard work to be worthwhile and last as long as possible.
Repair Or Replace The Roof
If you can see areas of your roof that need repaired or replaced a buyer will see them too.  If you're getting ready to sell, you may want to get the job done before you list so that it doesn't become a point of contention during negotiations.  If you're not ready to move you're still better to deal with smaller issues before they become bigger, more expensive problems.
Consider A Fence
Fencing can provide much needed privacy to properties in town, delineates property lines and can even add a decorative touch to your yard.  Remember to keep the style of the fence in line with the style of your home and property.  If you've already got a fence, keep on top of any necessary repairs, replace any broken pieces of wood and repaint regularly to maintain both the presentation and the quality of the materials.
Don't Forget The Little Details
Wipe down the door knobs, light fixtures, house numbers, etc.  If hardware is looking the worse for wear, consider replacing it with something in a classic style (as opposed to something trendy that may be out of fashion next year).  If you choose to replace outdoor lights, save yourself some hassle by choosing ones that have the same mounting system as your current lights…or hire a local electrician so you know the job is done properly.
Keep On Top Of Garden Maintenance
A well maintained yard can make a huge difference to potential buyers.  Make sure to mow the lawn regularly, add mulch to and remove weeds from flower beds, prune overgrown trees and shrubs and do what you can to keep invasive weeds and vines in check.  Add seed or sod to bare patches in the grass and consider adding a few planters full of vibrantly coloured flowers to help things look lush and bright.