When our daughters were younger (and needed to be kept busy), we often took day trips into the city to show them some of the things we grew up with that they have less exposure to here in Grey County.  We got an annual family pass to the Royal Ontario Museum (at the time an annual family pass was actually cheaper than paying for 2 separate visits for the 5 of us!) and let them explore the various galleries and see mummies first hand.  We visited the Science Centre to let them touch the giant static ball and see every hair on their heads stand on end.  We never made it to the Art Gallery of Ontario, but now that everyone's in some form of lock-down we may have our chance!
Being stuck at home right now doesn't necessarily mean you have to spend your days in front of the tv.  It is now possible to explore some of the world's finest museums and galleries from the comfort of your own couch as a number of attractions are offering free virtual tours of their world-renowned exhibits.
Ok, so you may be trading the tv screen for a computer screen, but at least you'll be learning something new and expanding your mind!  See and learn about almost anything, from art and antiques to zoo animals and space cameras, and stay safe and healthy as you do it!
With online access to 47,572 objects within the vast collections, this self-guided tour lets you peek inside the country's greatest collections of natural history. Online experts are continuously adding new items to the collections including artwork, cultural objects and natural specimens housed in 40 different galleries.
Watch live cams and videos of your (or your kids') favourite animals at the world famous San Diego Zoo.  Easily jump from polar bears to pandas to tigers and koalas.  Activities, stories, games and animal features are also available.
Visit the world's most popular museum while avoiding the line ups with this virtual tour of 4 different galleries including the famous Petite Gallerie and perennial favourites,  Egyptian Antiques.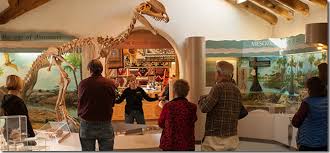 Use this interactive map to explore the continents and cultures of the world.  Artifacts and trails of influence clearly illustrate where cultures overlap and knowledge/skills were transferred from one people to another across the world.   Access exhibits stretching all the way back to 2 million BC.
Visit the underwater world in a whole new way with a series of virtual events at this popular Toronto aquarium.  Ripley's Toronto location has joined forces with their locations in Myrtle Beach and the Smokey Mountains in order to allow people to tune in to live online events including Q & A Sessions with Biologists, live streams of polar bears and penguins, a shark cam and octopus feedings.
Take a look at some of the most famous paintings in the world of contemporary art, including  the works of VanGogh, Picasso, Cezanne and Rousseau.
Log in to Instagram to join in a private tour led by the Director and CEO of the National Gallery, Sophie Suda.  An awesome opportunity to experience an interactive live tour of the most well known gallery in the country.
Wander around Vatican City, through St. Peter's Basilica, the Sistine Chapel and more on this narrated 360 degree virtual tour.
One of the world's foremost institutions of contemporary art and architecture, the Guggenheim's online collection presents a series of exhibit galleries housing more than 200 works aimed at promoting understanding and appreciation of art through education, research and publication.
Who doesn't dream of being an astronaut at some point in their life?  These views from the International Space Station give a small taste of what it must feel like as the sun rises and sets every 45 minutes.  And if that cam is not available, there are many others that provide a glimpse of different locations on the planet.