Please Note – The DFC is closed until at least March 31st; in compliance with the Ontario State of Emergency Declaration measures around the Coronavirus.  Memberships are now frozen/on hold.
The Durham Fitness Centre is celebrating 10 years in it's new location, 245 Elm Street East!
While the gym is currently closed due to Covid-19 public health restrictions, it enjoys a healthy membership as ever increasing numbers of locals realize what a gem we have in our own backyard.  Members vary in age from young teens to senior seniors and most make good use of the facilities by visiting more than once a week.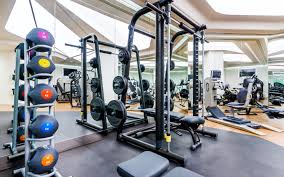 The current facility was build in August 2009 after a tornado swept through the area, destroying the previous building.  That rebuild provided the opportunity to make things bigger and better, including a sauna, private showers, day use lockers, wall-mounted tvs, wifi and a multi-use studio.  Memberships have been on a steady increase since then, surpassing 300 paid members this past February.  In 2019 the DFC was able to complete over $50,000 in new equipment updates, meaning there's a full range of exercise equipment available including treadmills and cardio equipment, free weights, a Smith machine, crossfit accessories, TRX ropes and much more.  Classes are also offered on an ongoing basis, from circuit training to yoga to spinning, and the list goes on.
Fees are very reasonable, the staff is friendly and knowledgeable and the facility is kept spotlessly clean.  The gym is open Monday through Friday from 5am – 9pm, Saturdays 7am – 12noon and Sundays 6am – 12noon.  When Coronovirus restrictions are loosened and life in small town Ontario begins to go back to normal, I highly recommend that you stop by the DFC for a look and consider purchasing a trial membership.  You won't be disappointed!
Durham Fitness Centre – 245 Elm St E, Durham N0G1R0 (east of Hwy 6 in the Industrial Park)
Phone: 519-369-6361        Email: [email protected]