Are you going to be on your own for Christmas or do you know someone who is?
Then why not…
Come Dine With Us
and feel
At Home for the Holidays!
We would love you to join us and enjoy a traditional home-style Christmas dinner with turkey, ham and all the fixin's!
Our third annual "Come Dine With Me" Christmas Dinner will be held on Monday, December 25th 2017 at Cooke's Presbyterian Church on George Street in Markdale.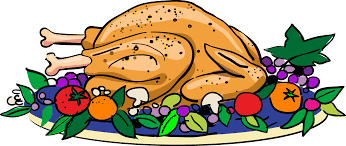 This dinner is offered free of charge by volunteers in the community who want to share the joy and fellowship of the season with you,
however donations are gratefully accepted and will be donated to Chapman House Hospice in Owen Sound.
No need to call or pick up tickets in advance this year, just show up ready to enjoy yourself and enjoy a wonderful meal.
Socializing and festive refreshments begin at 2:30pm.
Dinner is served at 3:30pm followed by coffee and a delicious selection of desserts.

To make a donation of food, funds or your time, please contact Lib Howell at 519-379-0672.