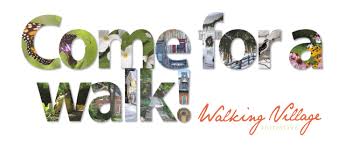 The village of Flesherton is well known as a hub for arts, culture and food in Grey County.  What visitors may not know is that the charming and picturesque location is also a designated "Walking Village" and a great place for a hike or casual stroll.  The Walking Village Initiative is meant to encourage residents and visitors to enjoy walking throughout the area and to promote awareness and a connection with the trail systems of the region.  We are fortunate to be located just steps from the newest section of the Bruce Trail – the Falling Water Trail – and the Niagara Escarpment, a 725km limestone ridge that is home to cliff faces, rare plant life and ancient cedars.  Boasting a number of beautiful waterfalls, the Bruce Trail, the Osprey Bluffs and the Saugeen and Beaver Rivers, Grey Highlands is a favourite spot for people who love the outdoors.  On your next visit, get outside and see for yourself why this beautiful Walking Village keeps so many visitors coming back to "stay and play in Grey".
The Bruce Trail – Sydenham Section
The Sydenham Section is one of 9 sections of the Bruce Trail which provides a range of terrain, beautiful scenery and is open for hikers, snowshoers, wildlife observation and photographers.  Trail users are encouraged to access the Sydenham Bruce Trail Club's website for more trail information and the Bruce Trail Conservancy to obtain a trail guide.
Eugenia Falls Conservation Area
Situated in the tiny Village of Eugenia, Eugenia Falls Conservation Area encompasses 23 hectares of Niagara Escarpment, river valley, upland forests and measuring an impressive 30 meter drop, the tallest waterfall in the surrounding area.  The all-season trail winds along the edge of 'Cuckoo Valley' with and loops past a Centotaph memorial and picnic shelter.   If you loved these falls, download the Grey County Waterfall Tour brochure to see 10 other waterfalls in our scenic neighbourhoods!  View the Eugenia Falls Trail map here.  Please consult the trail website for updated trail information prior to visiting the trail.
Feversham Gorge Trail
Located just west of the Village of Feversham on Grey County Road 2, the gorge begins on private property and follows the Beaver River downstream.  It's limestone walls tower roughly 80 feet above the river, offering wonderful views from the lookouts as well as staircases to help intrepid adventurers get down to the bottom of the gorge.  The hiking area sits on a 1.5km section of "table land" above the gorge and consists of a mix of coniferous and deciduous woods.  Download a trail map here.  Please consult the trail website for updated trail information before your visit.
Flesherton Forest
The Flesherton Forest is part of a Grey Sauble Conservation Management area and features an easy walk through a wooded area highlighted by a stream, a hardwood and cedar forest, ferns, open views and old meadows. The Forest is accessible at the end of Highland Drive, just off of Highway 10 beyond the arena and library.
Flesherton Hills
The Flesherton Hills is a 100 acre tract of walking trails through the woods featuring a picnic pavilion, ponds, a beaver dam, forests, fields, an old orchard and newly planted trees.  Located behind Grey Highlands Secondary School (GHSS) and Macphail Memorial Elementary School, hikers who visit during the week might come across classes from either school as the woods are used frequently by both junior classes and the Environmental Science class at the high school which is responsible for monitoring and maintaining newly planted sections of land.  The trails are accessible to the public via the school parking lots off of Highway 10 (GHSS) and Campbell Street (MacPhail).  A trail map and some geological information is posted at the MacPhail parking lot entrance.
Glenelg Klondike Trail
This 8km trail is set amid heavily wooded terrain, is very scenic and is a favourite of hikers, cyclists and during the winter months is popular with snowmobilers and cross-country skiers.  Access to the forest is approximately 5 km southwest of Markdale, off of West Back Line at the end of Hamilton Lane.  Download a trail map here.
Hogg's Falls
One of the stops on the Grey County Waterfall Tour, Hogg's Falls is a popular trail all year round.  Parking for Hogg's Falls is on Lower Valley Road, approximately 1.8kms north of East Back Line.  The "Upper Side" trail loop begins roughly 200 feet to the north.  Note that Hogg's Falls trail (blue blazes) intersects with the main Bruce Trail (white blazes) and crosses Rock Mills Creek.  This trail falls within the Beaver Valley section of the Bruce Trail and trail users are advised to obtain an updated version of the Bruce Trail guide before venturing out as trail information may change from time to time.
Osprey Wetlands
The Osprey Wetlands spans 6,500 acres, 700 of which are owned and managed by the Nottawasaga Valley Conservation Authority.  Featuring a unique esker (a long, winding ridge of sand and gravel) surrounded by pockets of White Pine, Black Spruce and mixed hardwoods, it is an Area of Natural Scientific Interest (ANSI).  Situated at one of the highest elevations in Southern Ontario, these wetlands essentially sit in a depression of bedrock and provide an interesting and lovely setting for exploration and discovery.