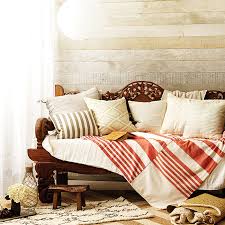 Decorating your cottage can be tricky, especially if you've scrimped and saved in order to be able to purchase the property and don't have a lot of money left!  Besides, you don't go to the cottage to spend all your time indoors and you likely don't want to take on a major reno job, but it's always nice to add your own personal touch to a space! Here are some easy and inexpensive ways to add a little flair that won't require you to sacrifice too much money or time on the dock and should leave you with lots of time to roast marshmallows by the bonfire.
Pull Double Duty
Invest in furniture that can serve more than one function and that will work well in a small space. Use a rustic bench as a coffee table, for example; it's scale will suit a small space and it can be pulled up to the dining table for extra seating when necessary.  Getting a new bed?  Consider a platform-type model that will provide extra storage under the frame.  Another option?  A Murphy bed that can be folded up flat against the wall when not in use, freeing up extra floor space.

Slip It Under A Cover
Slip-covered furniture is your friend. Either have a cover made in a durable fabric for an old sofa or chair (you can take your own measurements and place an order through various online businesses), or buy an inexpensive slip-covered couch from a store such as Ikea. Slipcovers are durable and washable so even pale colours can work.  You might want to consider picking up a spare cover to swap out as needed.  And if you're looking for an even easier and cheaper option, go back to those vintage/second-hand stores and purchase some large blankets, afghans or even curtains.  Some strategic tucking in and the use of throw pillows can work wonders when covering up a couch that has seen better days!
Flowers
Whether purchased from your favourite flower shop or picked on a walk in the woods, fresh flowers brighten up any room.  In keeping with that casual cottage style, forgo a traditional vase in favour of a mason jar, a fancy drinking glass or any other unexpected container for a more relaxed, informal feel.

Go For A Vintage Vibe
While you're on holiday, keep your eyes open for garage sales, antique shops and second-hand stores.  These can be great places to score furniture and décor to add warmth and charm to your cottage.  Think of needlepoint cushions, old, worn quilts or  collections of colourful dishes, pitchers or bottles.  Let your personal taste set the tone.
Do It Yourself
Personalize your cottage with DIY elements to make the space your own. Freshen up an old table with a new coat of paint, have the kids create some one-of-a-kind artwork to display or visit Pinterest for a quick how-to session…anything you make on your own will make your cottage feel like home.
Cottage Kitsch?
You're at the cottage so you can take advantage of the great outdoors, so why not let yourself be inspired by your surroundings when you're decorating your get-away?  If you're lucky enough to have a cottage on or near the water, you can use colours and patterns that evoke waves, fish or the sea.  If you're in the woods, look for wooden furniture and rustic touches such as wooden picture frames, baskets of firewood and/or kindling or maybe some wrought-iron accents.  Just be careful not to get carried away with a theme.  A little cottage kitsch is fine but too much can be over-the-top.
This is your home away from home.  It should be a place that makes you happy, relaxed and comfortable the minute you walk in the door.  And it should be a reflection of the people who own it.  Don't be afraid to make some wild choices and have fun with your décor.  Make your cottage your own!