When it comes to keeping your home neat and tidy, there are varying levels of cleanliness.  There's the everyday, run-the-vacuum-and-wipe-the-kitchen-counter clean, expecting-guests-tonight clean, and then there's a whole new level: COVID-19 clean.  And if you've just bought a new home, you're thinking about what you need to do to properly disinfect it on move-in day in order to do your best to protect your family.  Basically, you're cleaning your new home as if it was a public space because once the sellers, their family, the movers and any helpers have left the home, that's exactly what it has become.
So, where to begin?  According to the government of Canada, you're best to use pre-mixed, store-bought cleaning and disinfecting solutions that clean and disinfect at the same time.  Why double your already large workload?  Focus your attention on frequently touched surfaces such as door knobs, handrails, light switches, cabinet handles, taps/faucets, tables/countertops and electronics.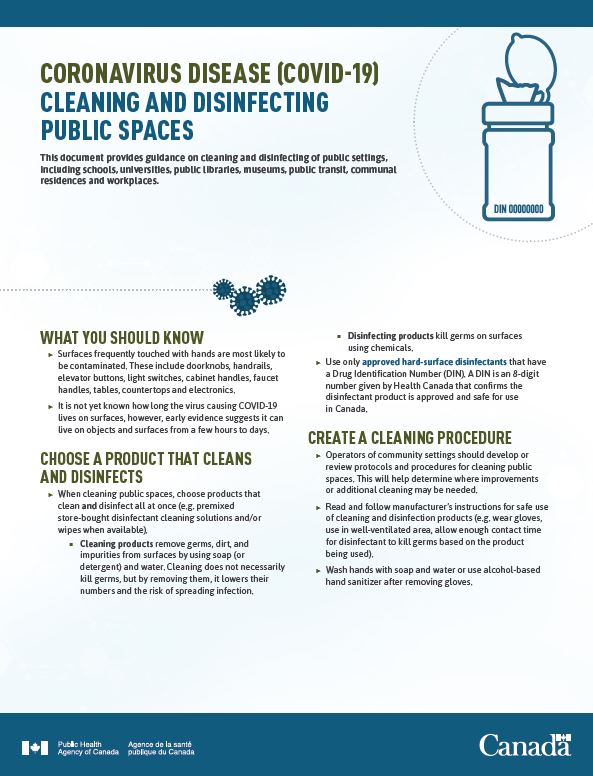 It is recommended that people consider a "cleaning procedure" so they can be sure that they are doing everything possible to protect themselves and their family members.
Read and follow manufacturer's instructions for safe use of cleaning and disinfection products (e.g. wear gloves, do not breath in fumes, allow enough contact time for disinfectant to kill germs based on the product being used).
Pay attention to air flow and make sure all areas where chemicals will be used are well-ventilated.
Wash hands with soap and water or use alcohol-based hand sanitizer after removing gloves.
Use damp cleaning methods such as damp clean cloths, and/or a wet mop. Do not dust or sweep which can distribute virus droplets into the air.
Contaminated disposable cleaning items (e.g. mop heads, cloths, your gloves when you're done) should be placed in a sealed garbage bag before disposing of them with regular waste.
Reusable cleaning items can be washed using regular laundry soap and hot water (60-90°C). Clean and disinfect surfaces that people touch often.
In addition to deep cleaning, surfaces that are frequently touched and shared spaces (kitchens and bathrooms) should be cleaned and disinfected regularly.
We can all do our part in preventing the spread of COVID-19.
For more information: Canada.ca/coronavirus 1-833-784-4397