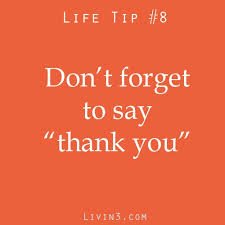 The holiday season can be a busy and sometimes stressful time.  With so much effort put into preparation, it can be easy to forget to properly acknowledge the friends and family who have given gifts, hosted parties and treated us to their generosity.  The best way to show your gratitude is to make sure you offer a sincere thank you.  The added bonus is that offering your thanks extends the warmth of the holiday season and will make an impression on your friends, relatives and colleagues.  Saying thank you is a bit of a lost art, after all, and you'll be surprised by how much the simple gesture is appreciated.
Saying "Thank you" doesn't have to be a big project and there's no need to make it time consuming or expensive.  Here are some quick and easy ways to say thank you that won't cost much (if anything), take much time and don't even require much effort.
Send a thank you note:  Want to catch someone's attention?  Send a thank you note in the mail.  In today's digital world, handwritten thank yous seem to be a thing of the past so when one arrives in a mailbox it shows the recipient how much you truly appreciated their gift to you.  Note cards are readily available at stationery stores, department stores, even the dollar store, so the biggest expense you'll likely face is to your time.  And remember:  it only takes a few short minutes to jot down a few words and an address.
Send an email:  While note cards may be the classic way to say thank you, a simple email can be equally effective.  While sending thanks by email may not seem as special, this method does offer some advantages.  First, you can add a personal touch, attaching a photo of your family enjoying that great holiday party, for example.  Second, you can deliver your thoughtful message instantly and from the comfort of your own living room.  This is an especially good approach if your recipient is as busy as you are and is comfortable using technology.  Third, sending a thank you email is both budget friendly (there's a wide variety of e-greeting cards available online, many of them free) and environmentally friendly (no shipping and no paper is involved unless that photo gets printed out).
Take a host/hostess gift to the party:  The next time you go to a holiday party, why not say thank you while you're saying hello with a small but thoughtful host/hostess gift?  I was raised to not arrive at a party empty-handed, and giving the hosts a token of thanks is a small gesture that will be appreciated.  Some suggestions: you can't go wrong with a bottle of wine to share during the party (or for the hosts to keep for themselves!) or a bunch of flowers that will brighten up a room, or if you know the hosts well, something tailored to their specific taste will make a thoughtful option.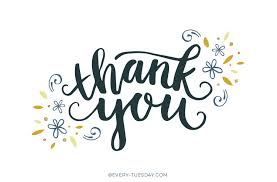 Saying thank you doesn't need to take a lot of work and it's worth the effort.  After all, a little thoughtfulness goes a long way!