The extra cold weather we've experienced this winter has at least one positive component…it has been perfect weather for getting outdoor skating rinks established!  Low temperatures can bring out the tendency to hibernate but when you're lucky enough to live in an area that boasts many outdoor rinks and indoor arenas offering lovely scenery, time spent with friends and family and impromptu pick-up games, you've got many reasons to embrace winter and get outside!  So dust off those "blades of glory", get your skates sharpened at an arena or hardware store and head out to one of these Grey County locations!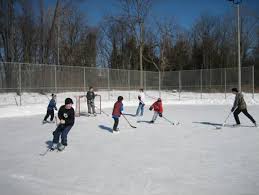 OUTDOOR RINKS
Priceville Outdoor Rink at Stothart Hall
104 Kinross Street, Priceville
Maintained by locals, this rink runs on a "first-come-first-served" basis and is popular for casual skating as well as pick-up games all free of charge.
1155 2nd Avenue East, Owen Sound
With hockey scheduled on ODD calendar days and skating slotted for EVEN calendar days, the rink is available for everyone free of charge.  Please note that the city requires that protective equipment be worn at all times and children under 12 must be accompanied by an adult.
Blue Mountain Resort
Enjoy a 1.1km skating loop across the top of the Niagara Escarpment located at the top of the mountain between the Orchard Express and Southern Comfort lifts!  Open to all skill levels, rentals available.  See link for ticket prices, hours of operation and other details.
The Mill Pond in the Village
How about a skate on the pond followed by a steaming cup of coffee in one of the Village's friendly cafes or restaurants?  The Mill Pond is open for skating daily from 10am to 10pm, weather permitting.  Equipment rental available Sunday through Thursday 12pm-6pm, Friday and Saturday 10am-10pm.
250 Hume Street, Collingwood (parking behind the YMCA off Paterson Street)
Open daily mid-December through mid-March, weather permitting.  Programs offered include Shinny for various age groups, Mom & Tot Time, Public Skating, etc.  For a detailed schedule, see 2018 Outdoor Rink Schedule.  To contact the Outdoor Rink directly, call the Facility Operator at 705-441-0965.  Skate rental and sharpening available at Play It Again Sports, 135 Hurontario Street, Collingwood, (705) 446-0633
INDOOR ARENAS
Beaver Valley Community Centre
58 Alfred Street West, Thornbury
Offering Adult Skating, Parent & Tot Time and Public Skates at various dates and times.  Click here for scheduling details.  Click here to rent ice time or book a party package.
Dundalk Arena and Community Centre
550 Main Street East, Dundalk
Offering Public Skating, Mom & Tot Time and ice time is available for rent.  See a full program schedule here or call 519-374-3130 for rental inquiries.
Durham and District Arena
451 Saddler Street West, Durham
Free Tiny Tot and Noon skate times plus Public Skates, Shinny and ice rentals available.  Click here for scheduling and details.
Flesherton Arena
103 Highway 10, Flesherton (across from Grey Highlands Secondary School)
Available for regular public skating and mom & tot ice times, this arena is the hub of community hockey programs from rep leagues to old-timers, so it's the place to go if you'd rather watch than participate!  Click here for a complete schedule.
Markdale Complex Community Centre and Arena
75 Walker Street, Markdale
Public skating times on Fridays from 5:00pm-6:50pm and Sunday mornings from 10:30am-12:20pm.  For ice times & rentals contact 519-986-3301.
Osprey Arena
494196 County Road 2, Feversham (Singhampton)
Public Skating from 2:00pm – 4:00pm on Sunday afternoons.  The arena is also popular for pick-up games and broomball.  For ice times, rentals and inquiries contact 519-922-3131.
Rocklyn Arena (Euphrasia Memorial Community Centre)
156371 7th Line, Rocklyn
Learn to skate like the pros with top-notch instructors, take part in youth and adult hockey programs, arrange a game of shinny or attend public skating.  For ice times & rentals contact 519-538-1650.  Click here for a public skating schedule.