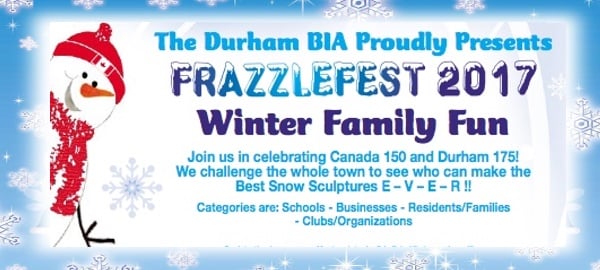 Durham marks Family Day this year with a long weekend full of activities celebrating Canada's 150th and Durham's 175th anniversaries!
Friday Feb 17th
1-4pm                   Snow Sculpture Judging
7-10pm                 Trivia Night at the Garafraxa Café.  Theme: History of Canada and Durham
Register teams of up to 8 with Jessica Duguay, 519-369-4551
registration fee of $10/person in support of "Canada 150 Community"
Saturday Feb 18th
10am-4pm          Judge Our Fudge! Drop in at downtown restaurants for a taste of fudge (while supplies last)
10am-4pm          "Frazzle Find" Scavenger Hunt.
Pick up clue sheets at the Garafraxa Café, completed sheets must be returned by 4pm.
4pm                       Meatball Challenge at the Durham Legion
7:30pm                 Open Mic at the Garafraxa Café, hosted by Steve Morel
8pm                       Family Dance by the Durham Lions at the Durham Legion
Sunday Feb 19th
5-7pm                   Durham Girls Alumni Spaghetti Dinner at the Durham Legion
Contact Jackie Gingrich (519-369-2485) for tickets.
Monday Feb 20th         (ALL EVENTS HELD AT DURHAM ARENA)
7am                       Walk The Town (Meet out front)
8:30-9:30am       Frazilicious Fitness Workout by Durham Fitness Centre
9am-1pm             Durham Figure Skating Club Breakfast in the Community Hall, tickets at the door.
10-11am               MMA Demo by Inception Martial Arts Academy
11am-12pm        Games by King's Kids in the Main Hall
12-1pm                 Dog Sled-Skijoring Demo at the Ball Diamond (sponsored by BIA & WG Chamber of Commerce)
1-3pm                   Public Skating (sponsored by EastLink)
1-4pm                   Road Hockey (behind the arena)
1-4pm                   Tobogganing (at soccer field across from arena)