What is a Good Food Box?
The Good Food Box is a collective buying program that provides a grocery bin of fresh seasonal produce at a low price.  Produce is purchased in bulk at wholesale prices and the savings are passed on to participants with the hope that discounted prices and a convenient, local pick up schedule will encourage healthy eating habits and promote the consumption of fresh, seasonal fruits and vegetables.  The program runs from September – June each year.  No deliveries are scheduled for the summer months since fruit and veggies are readily available at farmer's markets, farm stands and veggie gardens.
Who can participate?
Anyone in the Grey Bruce area can participate in the Good Food Box program.  In Grey Highlands there a locations in Dundalk, Chatsworth and Markdale.  There are no restrictions on who can participate and the only requirement is that you pre-register so that enough food is provided at each location.  If after trying it out you feel a box provides too much produce for your household, consider sharing with friends, family or neighbours!
How does it work?
Once a month, participants in the Good Food Box program place their orders with a local co-ordinator.  On delivery day, volunteers sort and pack the boxes for pick-up.  The Good Food Box provides a variety of fresh fruit and vegetables at an affordable price.  Boxes are dropped off at local sites once a month from September through June and participants are required to pick up their box on a set schedule.  Also included in the monthly box is a newsletter with seasonal recipes, storage tips and healthy eating information.
What's in each box?
The box contains 10-15 different types of fresh fruits and vegetables each month.  Produce varies by season.  Contents could include potatoes, carrots, onions, apples, cabbage, cucumbers, parsnips, peppers, celery, melons, garlic, squash, strawberries, leeks, broccoli, cauliflower, eggplant, corn and more.
How would i get my box?
Good Food Boxes will be delivered to locations in Dundalk, Markdale and Chatsworth once a month.  Each location has it's own co-ordinator, order location & schedule and pick up location & schedule.
Dundalk – Contact: Dorothy Frankland  (519)923-5974
Order Location: Dundalk Credit Union     (order the Saturday before)
Pick Up: 4th Thursday of the month (9:30-10:30am and 4:30-5:30pm) at the McIntyre Building
Chatsworth – Contact: (519)794-2021
Order Location: Chatsworth Royal Canadian Legion     (order by the 3rd Friday of the month)
Pick Up:  4thWednesday of the month (3:00-5:30pm) at the Chatsworth Royal Canadian Legion
Markdale – Contact:  Connie Shaw  (519)986-3091
Order Location: call Connie Shaw  (519)986-3091
Pick Up:  4th Tuesday of the month (11:00am-2:00pm) at The Well in the South East Grey Community Health Centre
What does it cost?
Standard boxes are $20 each.  Some sites (Chatsworth) offer smaller boxes for $15.  Payment is required before pick-up date.  A subsidy may be available for eligible participants, contact your coordinator for details.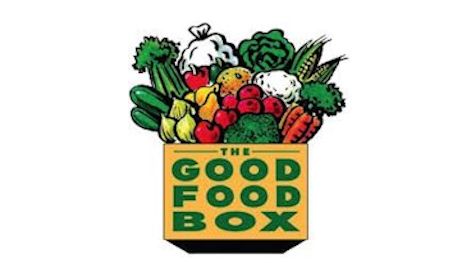 The Good Food Box is available at 19 different locations across Grey and Bruce, speak to a co-ordinator for more information. 
For more information on Community Health and Food Programs, visit Public Health Grey Bruce.