Looking for something fun to do on a Tuesday night? Join the Grey Highlands Cornhole League!
The Grey Highlands Cornhole League, organized by Moondog Cornhole, meets at the Hanley Institute (13 Spring St, Flesherton) each Tuesday from 7:00 – 9:30pm for weekly drop-in league play.
*** Due to construction at the Hanley Institute, no Cornhole games will be played on June 8, 2022 ***

Open to all ages and skill levels – Everyone welcome – No experience or equipment necessary
$10 gets you a minimum of 6 games and a chance to win prizes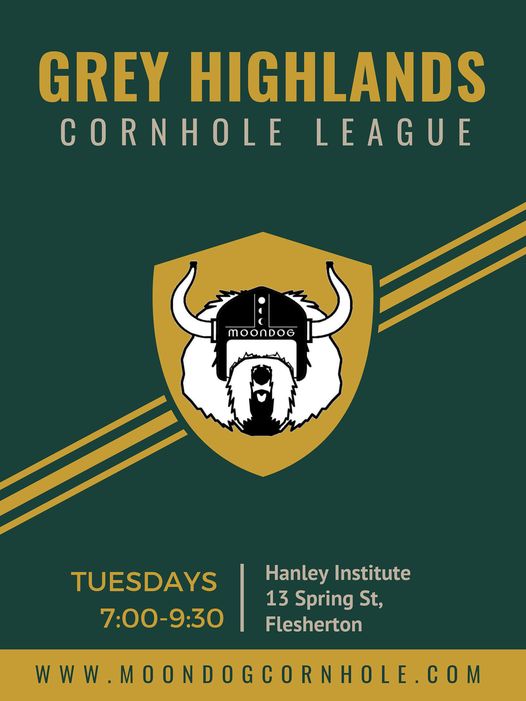 Cornhole, also known as "bags" and "bean bag toss" is a game played with 8 bags and two boards. Most commonly the game is played with 2 teams of 2 players, but there is an option to play 1 vs 1. The bags are thrown towards the board, 27ft away from you, in an alternating fashion vs your opponent. When all the bags have been thrown the round is over and it is time to count up the score. A bag in the hole is worth 3 points and one on the board is worth 1. Scoring is done by 'cancellation', meaning only one team can score – the team with the higher score each round gets the score differential. (ex. Team A scores 10 and Team B scores 5 = Team A 5 points that round.) You continue this until a team reaches 21 points.
Got a party, family reunion or fundraiser coming up?
Moondog Cornhole equipment is available to rent or ask how they can help to run private events.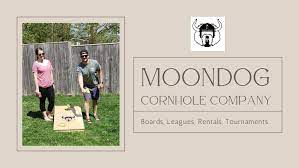 Need another reason to give the local cornhole league a try?
"At Moondog we strongly believe in giving back to the communities we are involved in and we regularly donate to various local charities and organizations in need of funding."