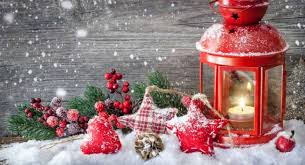 Ready or not, the Christmas season will soon be upon us!  What better way to wade into the holiday spirit than by visiting one of the many Christmas events that will be happening in the Grey Highlands area over the next few weeks?  You're sure to find all manner of local, hand made items, beautiful gift ideas and delicious treats…and you'll be supporting individuals and small businesses in the wonderful small towns and communities that we live in.  Talk about a happy holiday!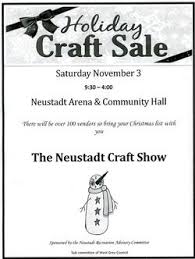 Saturday November 3rd          9:30am-4pm          Neustadt Arena and Commuity Hall, 151 Enoch Street
Over 100 vendors will be set up in both the arena and hall.  Bring your Christmas list!

Saturday November 10th and Sunday 11th          9am-5pm          Nottawasaga Resort, 6015 Highway 89, Alliston
Featuring over 100 vendors from across Ontario and showcasing only handcrafted items plus a visit from Santa each day!  Free admission, refreshments available at a concession stand.
Saturday November 17th                  10am – 4pm          Kimberley Hall, 235309 Grey Road 13
Unique gift ideas, art, craft and food from artists, artisans and food producers all local to Beaver Valley.  Free admission. Hourly draws. Sweets and Treats Room.  Presented by The Art Map.
Saturday November 17th          9:30am – 3pm          Stothart Hall, Kinloss Street at Ball Diamond
Don't miss this extremely popular community event featuring over 30 vendors on 2 floors!  This is Priceville at it's best!  Free admission.  Hot lunch available.
Saturday November 17th          10am – 3pm          Mel Lloyd Medical Centre, 167 Centre Street
Come and join us once again in celebrating the Holiday Season with local farmers, bakers, crafters, and small businesses.  The charity of choice this year is the Breakfast Program (active in all 5 Shelburne schools) funded through the Children's Foundation of Guelph and Wellington's Food & Friends Program.  Come on out and support your local community members and businesses!

Friday November 23rd – Sunday 25th          Sulphur Springs Conservation Area, 261101 Grey Road 28, Hanover
Join in on the largest Christmas event in grey and Bruce Counties!  Tons of activities, tasty treats, live animals, a Christmas Cafe, even a visit to Santa's igloo!  Fees apply for some activities.

Saturday November 24th          9am-3pm          Osprey Community Arena, Grey Road 2, Feversham
A wide range of vendors offering everything you need to get your home Christmas-ready!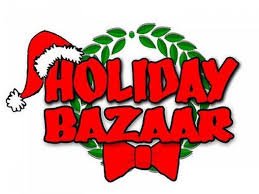 Saturday November 24th          10am-4pm          206 Toronto Street South, Markdale
A wide variety of crafters, vendors, baked goods, a raffle, a lunch room and so much more!

Saturday December 1st          Flesherton Kinplex (2 Highland Drive)          9am – 2pm
This perennial favourite has been running for more than 25 years!  Browse the stalls full of a wide variety of locally made and produced food, handmade crafts and one-of-a-kind artwork.
Friday December 7th & Saturday 8th          4pm – 9pm          Glencolton Farms, 393889 Concession 2, Durham
Get in the Christmas spirit and enjoy the sights and sounds of a traditional European Christmas!  Local artisans and vendors, children's activities, barnyard animals and great entertainment!  Presented by Friends of Edgehill Country School and Symphony In The Barn.

Saturday December 8th          10am – 3pm          Flesherton Kinplex, 2 Highland Drive
Don't miss the 5th Annual Frosty's Market with a large variety of unique gift ideas, crafts and services!  Lunch is available at the Kinette kitchen.  Free admission.  A donation to the Food Bank would be appreciated.