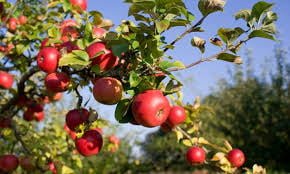 T'is the season!  Apple orchards are buzzing with activity as visitors stop in to pick up a bag of freshly picked fruit or maybe spend an afternoon picking their own.  And why not?  We live in Ontario's "Apple Country"!  Grey County is home to the largest concentrated area of apple growers in Canada thanks to the effects of Georgian Bay and the Niagara Escarpment working in conjunction to create ideal conditions for growing apples.  Choose a fall afternoon and take advantage of our surroundings by visiting some of the local stops on the Apple Pie Trail that makes its way through Grey, Bruce and Simcoe.  Whether you'd like to pick some apples or just pick up a pie…or maybe a caramel apple latte…there are so many fantastic local businesses ready to serve you up a little bit of something delicious made right here at home!  Make sure you take not only your appetite but also your camera as we're approaching the peak of our area's gorgeous fall colours!
Here's just a sample of the amazing stops along this delicious Trail!
Creemore & Stayner Area
Giffen's Country Market – Choose from fresh packaged apples, pick-your-own or freshly baked treats at this year round market.  Enjoy a tractor ride in the fall or stay for a meal at the restaurant.
Creemore 100 Mile Store – Artisanal and fair-trade products from natural and organic producers…not to mention apple cider, apple pie and freshly picked organic apples!
Collingwood Area
Espresso Post – Private, fair-trade and organic coffee perfectly prepared in an old world European cafe setting.  Don't miss the baked goods paired with a Caramel Apple Latte!
Currie's Farm Market – Fresh, local and organic produce grown sustainably, harvested daily and available throughout the season.  Plus locally made delicacies such as Apple Pie Ice Pop and Apple Salsa Verde.
Beaver Valley Area
Beaver Valley Orchard and Cidery – Hard ciders hand crafted from heritage apples grown in their own orchard or supplied by local growers make this award winning cider a real treat! Plan to visit the Tasting Barn and retail shop while you're there.
Appletop Farm – Grown with an eye on organic and biodynamic practices, Appletop Farm provides handpicked organic apples, cider, preserves, pies and garden vegetables.
Thornbury Area
Thornbury Bakery Cafe – Pick up a delicious Red Prince Apple Pie at this friendly bakery known for its Chelsea loaf, fresh breads and delicious seasonal specials.
Thornbury Farmer's Market – Connecting consumers with local producers of the highest quality food makes this a true farmer's market.  At this time of year there's no shortage of fresh organic apples, homemade pies and other apple treats.
Meaford Area
Grandma Lambe's – No trip along the Apple Pie Trail is complete without a stop at Grandma Lambe's!  Famous for their freshly baked pies made from apples grown in the family orchard, there's a reason Grandma Lambe's is a local institution.
Meaford Museum at the Harbour – Stop in to see the Apple Exhibit, highlighting the history of the apple growing industry and the involvement of local family farms.

Follow this link for a full description of all 40 stops along the Apple Pie Trail.  
To download the Trail Map, click here.