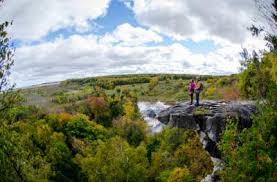 One of the best things about Grey County is the geography.  Rolling hills, meandering rivers and streams, steep cliffs and vast expanses of woodlands provide an abundance of opportunity for the outdoor adventurer!  Ready for an adventure of your own?  It can be as active or as relaxed as you're comfortable with.  From a casual walk to a hike, from biking to paddling – there's an adventure waiting for you in Grey!
Walking and Hiking Trails:
Harrison Park, Owen Sound
There are plenty of scenic trails making their way through Harrison Park, taking you for a wander along the Sydenham River and through the 100 year old trees that pepper the campground area and through a large bird sanctuary.  If you're interested in a bit more of a challenge, you can follow stretches that run as far as Inglis Falls, a favourite spot for photos.  While you're still in the park, take time to visit the restaurant or picnic areas, bring your swimsuit for a dip in the pools, or take a spin on a paddle boat or canoe.
Old Baldy, Kimberley
A visit to the picturesque village of Kimberley gives you the chance to hike a popular section of the Bruce Trail, culminating in the look-out point at Old Baldy, one of the most photographed spots in the county.  Those looking for a casual pace can drive up the escarpment (take the turnoff (to the west) at Sideroad 7B) and park at the entrance to this leg of the Trail.  Anyone looking  for more strenuous activity…and that's not much of an exaggeration!…can park on Grey Road 13 and find the blue gate that marks the back entrance to theTrail.  This leg will take you up the escarpment on foot, so be prepared to get sweaty!  The panoramic view of the Beaver Valley that you'll get once you make it to the top is well worth the effort.  Keep your eyes peeled for the vultures and hawks that love to hang out at this point in the Valley, where the landscape generates a natural updraft that birds love.
Biking and Paddling:
The Georgian Trail, Collingwood to Meaford
The Georgian Trail is 34 km long and stretches from Collingwood's beautiful Harbourview Park (just off Hwy 26 W.) to Meaford's magnificent waterfront!  With frequent opportunities to stop and rest or explore towns and villages along the way, you can set the level of activity to suit yourself.  The Trail is open to walkers, runners and bikers and is fairly gentle and easy to navigate as it passes through some of the most scenic parts of the Georgian Triangle.  Download a map of the Georgian Trail here.
Paddle the Beaver River, Kimberley
Paddling along a river is more your style?  You can do that in Grey too!  The gentle Beaver River is an ideal location for those looking for a leisurely paddle, particularly the length from Kimberley to the tiny village of Heathcote.  Bring your camera as the river features rugged scenery and lots of wildlife including blue herons, owls, white-tailed deer and of course beavers.  If you need to rent equipment or would prefer to go on a guided tour or lessons, there are two local outfitters that will be happy to accommodate you.  Eagle Adventure Experiences is based in nearby Collingwood and specializes in customized guided outdoor adventure.  Call 705-888-2551 or 905-339-8501 or email [email protected]  for details.  Free Spirit Tours, also based in Collingwood, is a certified outfitter providing lessons and equipment.  Call  705-444-3622 or email [email protected] .
Whatever your interest or ability, visit www.visitgrey.ca/play/outdoor-activities and follow the links provided there for some of the best outdoor adventure in Grey County!