Santa Claus returns to Grey County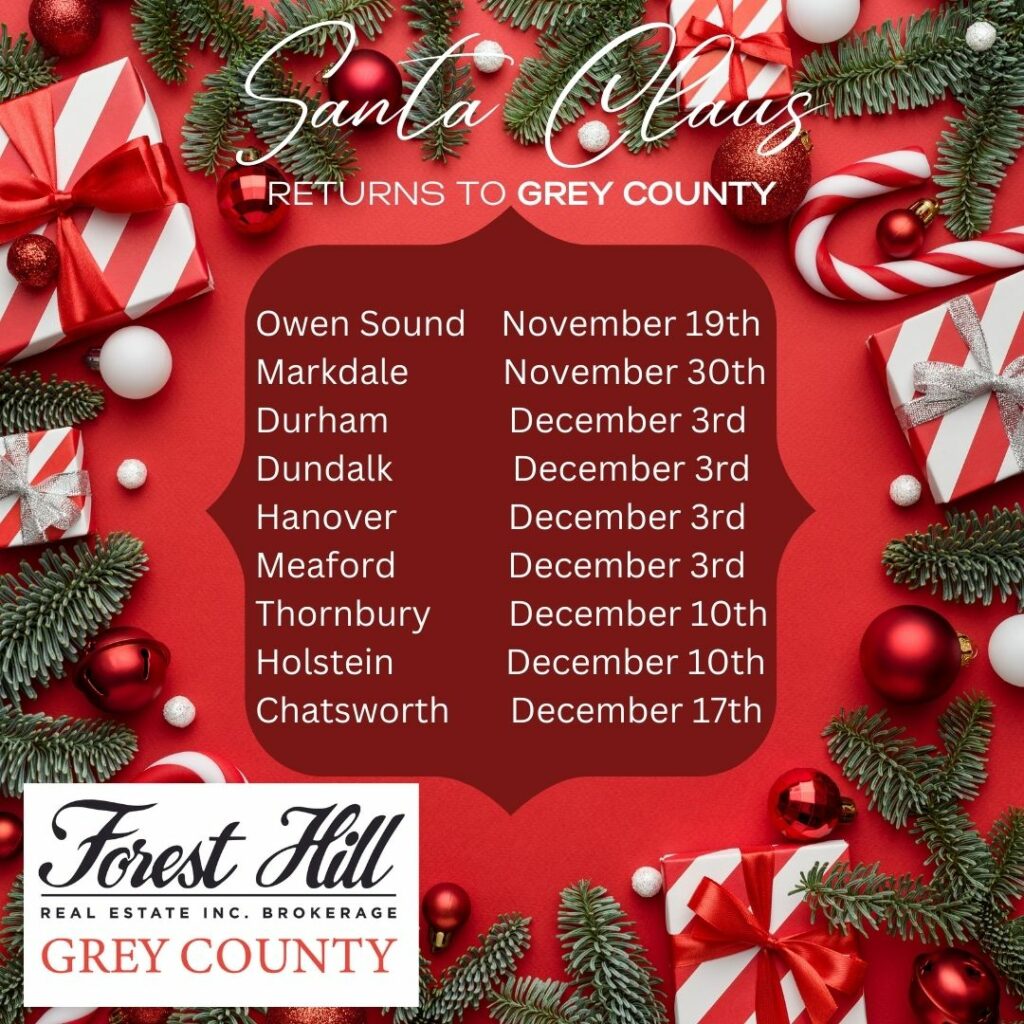 space
It's that time of year again…beginning in just a few days, Santa Claus returns to Grey County! Whether you're from Markdale, Meaford or anywhere in between, this guide will help you find a Santa Claus parade near you. Don't miss your chance to welcome him to your town and to take in some of the amazing Christmas events Grey County is known for!
space
The parade route begins at 2nd Ave. East/11 St. East. Donations of non-perishable food will be gratefully accepted on behalf of the Owen Sound Food Bank and donations of new socks will be collected on behalf of the United Way Bruce & Grey. Enjoy the parade and then plan to stay in town to take in "Holiday Magic in the River District" including the kick off of the Festival of Northern Lights with the Coca Cola Holiday Caravan, photos with Santa, fireworks and entertainment. Kids, don't forget to bring your letters to Santa!
space
Watch the parade make it's way down Main Street from the lot opposite the old Chapman's grounds to the library, then stay to meet Santa, watch the tree lighting, do some shopping at Moonlight Madness and the Vendor Market and enjoy good food and good company at the Rotary BBQ. The Markdale Recreation Committee float will gladly accept any donations of non-perishable food on behalf of the Markdale Food Bank. Let's help EVERYONE in the community have a happy holiday!
space
You're not going to miss this Santa Claus parade! Mark your calendars and come to town to welcome SUPER SANTA to Durham!
space
Come on out to the Dundalk Arena where visitors will stay warm in their cars as they drive by the many parade floats and displays. Kids will enjoy treats and giveaways. The annual house decorating contest winners will be announced. Donations to the Dundalk Food Bank accepted. And that's not all! Santa will be in town on December 4 and will be stopping by the Dundalk Fire Hall. Bring your camera and get a picture with Santa and hand deliver your letter to Santa from 11am – 3pm. The Fire Department will be collecting donations of new, unopened toys for their annual toy drive on December 4 as well.
space
The Hanover Rotary Club is proud to present the "North Pole Fantasy" Santa Claus Parade on December 3rd. Enjoy the Market in the Square from 2-7pm, visit with Santa and enjoy horse drawn wagon rides from 4-6pm and take in the parade along 10th Street beginning at 7pm. Awards will be presented for Best Float – Commerical, Best Float – non-Commercial, Best Theme and Best Overall. To see float entry form, rules and a waiver, visit www.rotaryofhanover.ca or contact Jim Schlatman at 226-668-5046.
space
Join the fun in Meaford on December 3rd with a full day of Christmas events! Start out at Christmas on the Bay at Market Square opening at 10am. Delightfully decorated traditional wooden stalls offering locally made food, products and cider, seasonal lighting, multiple fire pits, winter princesses, Christmas trees galore, music and an entertainment stage for live music and performances. Free hot chocolate will be available at Rexall from 4:30-8pm The Kinsmen's Santa Claus Parade starts at 5:15 and the Tree Lighting is scheduled for 6:15pm.
space
Thornbury's Olde Fashioned Christmas – Saturday, December 10, events all day long
Wander along Bruce Street in Thornbury and admire seasonal displays, holiday windows, live music, tasty treats, visits with Santa and more! Bring your camera so you don't miss any photo ops and bring your wallet – you're sure to find lots of great gifts for everyone on your Christmas shopping list!
space
Come down to the village of Holstein on December 10 for a magical non-motorized Christmas parade. The parade will start at 123273 Southgate Rd 12 (The Holstein Depot) and will end at 392141 Grey Rd 109 (Egremont Community School). The parade will start at 1 pm and trail down the Main Street of Holstein. Spectators are advised that cars parked later than 12:30 pm will not be able to move until the parade has returned back down the Main Street for the safety of all participants. Dundalk and Mount Forest Fire Departments will be onsite to assist with road control. Santa even has some time to stop in to visit and pose for photos at the Egremont Optimist building!
space
Get ready for a full day of Christmas spirit in Chatsworth! The Chatsworth parade and associated events will take over the streets of Chatsworth from 8am – 4:30pm. This year's parade theme is 'A Disney Christmas' so get out your Mickey Mouse ears or princess dresses and get ready to participate!
space
space
Click here for an outline of events throughout Grey County provided by southgrey.ca
Questions about small town life or t property in any of these towns or villages? Contact us today, we'd be happy to chat!