Now that you've made the move to the snow belt, or you're at least seriously considering it – why else would you be looking at a website that focuses on properties in beautiful Grey County? – there are a few things that will require a reality check.  First among them at this time of year is snow.  While the notion of living close to ski resorts smack dab in the middle of the snow belt sounds romantic and a thick layer of fluffy, white snow makes everything look pretty, the reality is that regular snow falls do come with a certain amount of manual labour.  Cars must be thoroughly cleaned off before driving, snow tires are a must, laneways will have to be cleared at regular intervals (unless you don't mind calling on your neighbour to use his tractor to pull you out of your own ditch) and even if you've got a snow blower to do the heavy work, you'll need to shovel your walkway, front step and might even need to move some drifts from around your exterior walls in order to prevent leaks.  This may not be a part of home ownership that you're looking forward to but it can be made easier and safer if you've got the right equipment and the right technique.
DRESS PROPERLY
Resist the temptation to wear your warmest clothes and layer up instead.  Bulky clothing can restrict movement and result in overheating.  Layers will keep you warm without weighing you down and can always be removed if you get too hot.  Don't forget warm, comfortable boots with a good tread and gloves or mitts that provide some padding as well as warmth.
WARM UP
Shovelling is exercise, as you'll discover after about 5 minutes!  Most of us don't think of it as the strenuous activity it is and don't bother to warm up or stretch before jumping in and getting busy.  You can prevent feeling stiff and sore the morning after by doing a a brief warm up (maybe walk up and down the driveway a few times) and stretching out your arms, legs and back for a few minutes.  During cold weather, you're less likely to notice that you're sweating, so remember to allow yourself a break whenever you need it and have a drink of water or maybe even a hot beverage to warm you up.
GET THE RIGHT GEAR
A good snow shovel can make all the difference in the world.  It is well worth finding one with a curved, ergonomic shaft that is long enough that you won't have to bend over with each load.  And bigger isn't always better – a smaller blade means the loads you're pushing or lifting will be lighter, reducing your chances of straining or even hurting yourself.  Up here in the snow belt you might also consider buying a roof rake to help you clear snow off at least the edges of your roof.  Snow on the roof can melt and then freeze, causing ice dams which can cause damage to shingles and flashing and lead to water damage as well.  *Pro tip: spray the blade with silicone lubricant to prevent snow from sticking to it.  
GET A GRIP
You can easily prevent a fall by spreading salt or sand on icy spots where you may have to stand while you're shifting snow.  Then reapply once your shovelling is done.
STRAIGHT BACK
Paying a little attention to posture is another way to prevent injury.  Try to stand with your feet shoulder width apart and keep your back straight while pushing and lifting snow.  Move the snow as far as you can before you lift it and when you do lift, bend at the knees, keeping your shovel relatively close to you and try not to twist in order to reduce the strain on your back.  You can also switch from right to left handed shovelling periodically if you want to ensure an even workout.
DO IT IN STAGES
Deep or wet snow can be quite heavy and take longer to clear. After a big snowfall, instead of shovelling it all at once, break the task into phases so you don't wear yourself out before finishing the job.
PILE IT ON
Wherever space allows, pile the snow farther from the edge of your driveway and walkway at the start of the job. leaving you room to move progressively closer as you finish up.  When you're tired at the end of the task you'll have a shorter distance to cover with a full shovel.  *Pro tip: shovel snow away from your home's foundation to prevent seepage with the spring thaw.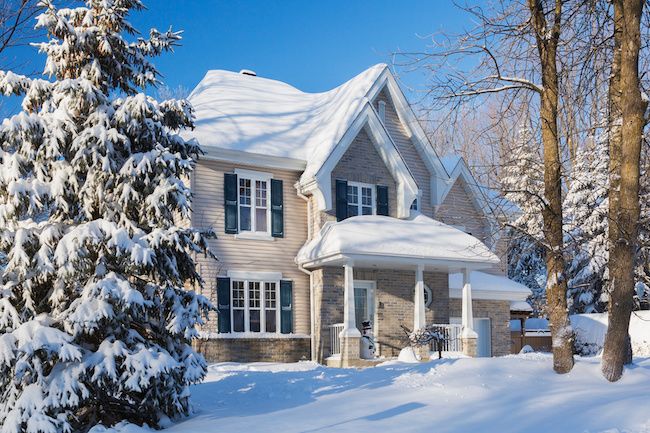 AND DON'T FORGET…
Keep furnace and dryer vents clear of snow at all times.  Blocked vents can be a fire hazard or cause carbon monoxide build-up inside your home.
This article was completed with some tips from CAA Magazine's Winter 2020 issue.