Small remodelling projects that pay of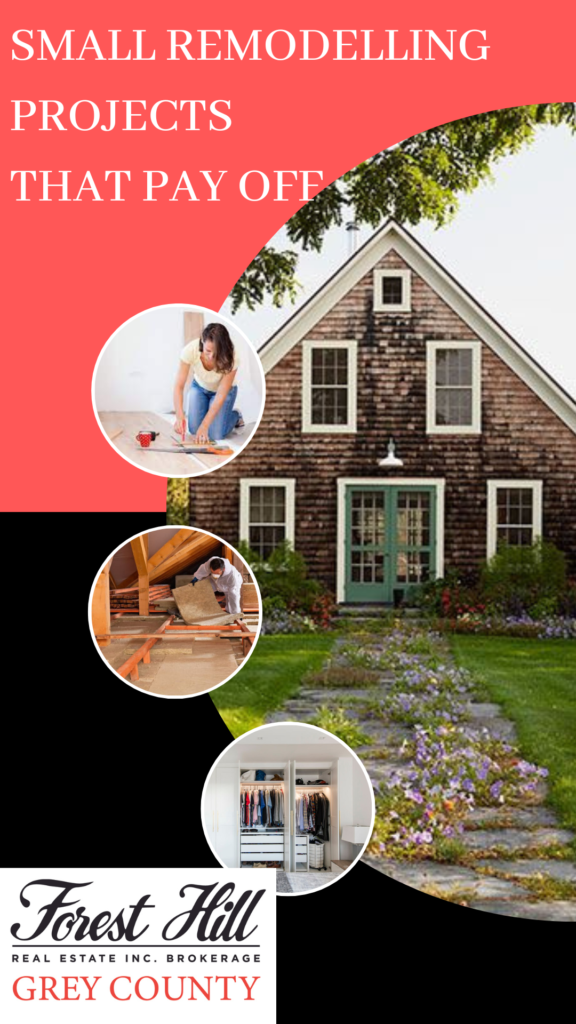 Not exactly feeling like a big spender these days? Small scale home improvements can be just as rewarding.
HGTV may broadcast enjoyable programming but it has also steered many home owners down the wrong road when it comes to renovations and DIY projects. It is simply not accurate to imply that homeowners need to undertake large remodeling projects to get a worthwhile return on their investment or sell their home effectively. And it's not just me who thinks large scale remodelling jobs are not necessary, the most recent (US) National Association of REALTORS® "Remodelling Impact Report" found that homeowners can realize both financial rewards and personal pleasure from small-scale, lower dollar-value home improvement projects. 
That's good news for anyone who has had to compromise on the house they purchased during a period of higher sale prices and interest rates…and for the rest of us who have financial responsibilities outside of turning our houses into dream homes . It's also good news for buyers who have had to reevaluate and have decided to stay put for now. If you're longing to complete some home improvements but also trying to manage inflation, a smaller remodel could be the best way to do both at once.
Small projects are better suited as DIY jobs, which can save you quite a bit of money. NAR research showed that 10% of young millennial home buyers would prefer to purchase a "fixer-upper" for this very reason. Of course, kitchen and bathroom makeovers will always have a place in many homeowners' hearts — if not in their wallets. The following five major projects are less expensive — though admittedly less exciting — options. But sprucing up your flooring and increasing energy efficiency bring their own rewards.
small remodelling projects that pay off
#1 Hardwood Flooring Refinish or Replacement
Hardwood floors are a clear preference among many of today's homebuyers. Post-pandemic, homeowners are still concerned about cleanliness, and hardwood floors are relatively easy to clean. Most homes also now include a pet or 2 so homeowners prefer surfaces that are less likely to stain or retain odors. According to most sources, including HGTV, refinishing hardwood floors (even with reclaimed or repurposed wood) grabbed the top spot for interior remodeling projects that bring the highest return at a whopping 147%! The home owners also benefit from this particular reno, as most felt it strongly impacted the pleasure they took in their own home which made the cost worthwhile. On top of that, the NAR says that 100% of consumers surveyed said they want to be at home more after finishing the project and 64% said the most important benefits were durable and lost-lasting results and materials.
Refinishing makes sense when everyday wear and tear has left scuffs, dents and scratches that detract from overall appearance. Buyers don't want to see evidence of your spills, dragged furniture, and ground-in dirt brought in from the barn. Options for refinishing will depend on whether its the coating or the wood itself that is damaged. The deeper the damage, the higher the refinishing cost. Sometimes replacing is more cost effective, especially if its a job you can DIY (think click-lock laminate).
space
#2 Insulation Upgrade
Most of us want to cut energy costs where we can. Buyers are no different – they want a home that's energy efficient enough to keep utility costs down. Seeing as the average resale home is about 30 years old, improving insulation is one of the best ways to do this. Upgrading insulation could factor into more than comfort level and energy prices though. It also appeals to buyers when you're ready to sell, with 63% reporting that energy efficiency was a valuable trait for a home to have. If you're still on the fence, consider that an insulation upgrade, at an average cost of $2,500, is relatively inexpensive. Even better, the USNAR says 100% of the expense is recouped when you sell.
Insulation upgrades can be a manageable DIY project. Installing certain types of insulation materials, like fiberglass and mineral wool, are especially DIY-able, according to the North American Insulation Manufacturers Association, but spray foam and some other insulation types require a professional. Keep in mind that the maximum thermal performance (R-value) of insulation greatly depends on how well it's installed so, it pays to work within your skill level.
space
#3 Closet Renovation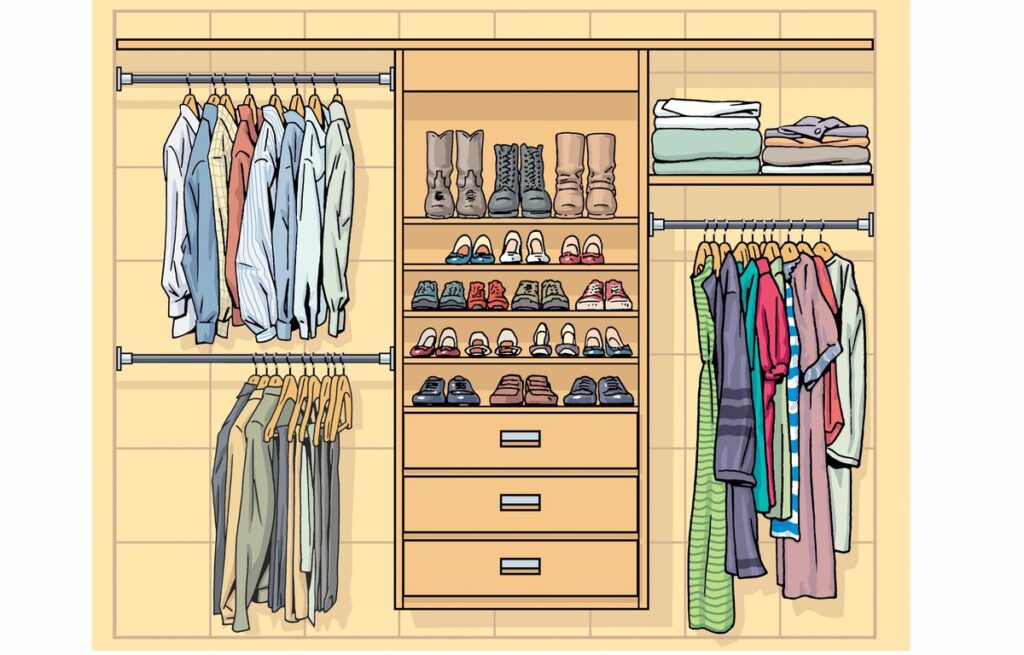 Most home owners take on a closet upgrade for two main reasons: to improve ease of use and to improve storage. This can be achieved through the purchase of shelving systems or racks. Prices can vary widely depending on style preference. Even thought closets are not visible most of the time, it can be worthwhile to splurge on quality materials. The may mean the job costs a bit more than expected but the end result can have a big impact on future buyers. Cost recovery for this project is pegged by the USNAR at 83%.   
space
#4 Add or Upgrade Laundry Area
Most people don't exactly look forward to doing laundry. It can feel even more like a chore if your laundry area isn't big enough or up to par. Home owners often focus on laundry room improvements to add features or in order to customize the space.
Laundry room remodeling costs can vary since rooms can be located in different parts of the home and vary in size. Most desired features include a decent amount of square footage, some cabinets, a countertop, and front-loading appliances, according to HGTV. One way to rein in remodelling costs, of course, is to upgrade your existing laundry space. Popular add-ons include stock cabinets, a sink, countertops for work space, good lighting, and durable flooring. All of these can be sourced from either local hardware stores or big box outlets. Some of the fancier options include pull-out units for hanging damp items so they can drip into the sink. 
Don't forget about small improvements that can have a big impact like painting the walls or cabinets and adding lighting. That can help you customize the space so you might almost enjoy doing laundry!   
space
#5 Paint One Interior Room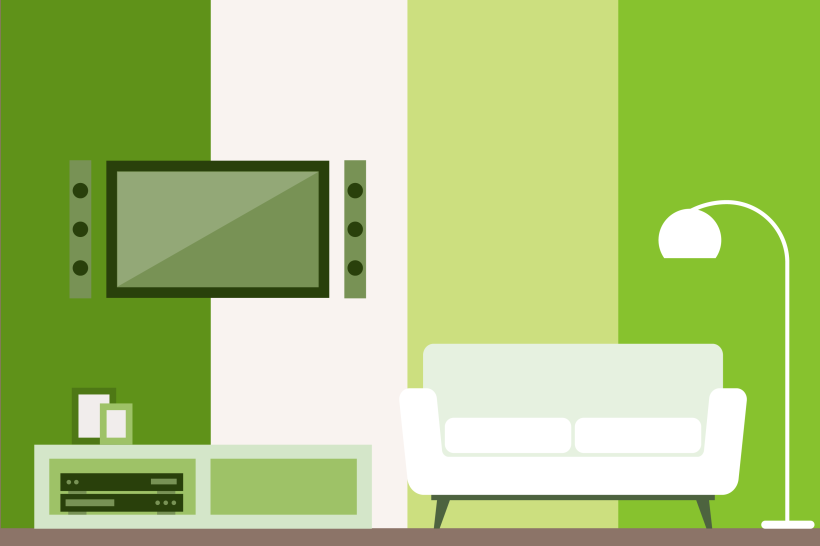 Painting is one of the most DIY-friendly home improvement projects you'll come across. There's nothing like a fresh coat of paint to breathe new life into a room. If you don't have the time or steady hands, plan on hiring a professional painter. Fees vary depending on the square footage of the room, the extent of work being done and the paint chosen.
small remodelling projects that pay off
The NAR remodeling survey also includes information related to bigger remodelling projects such as a full bathroom or kitchen update. Remember to take your priorities and budget into account. A smaller upgrade may do the trick and still earn you a healthy return. Happy remodelling! If you'd like some advice on renovations for resale purposes, contact us today to schedule a home evaluation!
Adapted from Houselogic's "5 Home Improvement Projects That Pay Off" by Lynn Ettinger