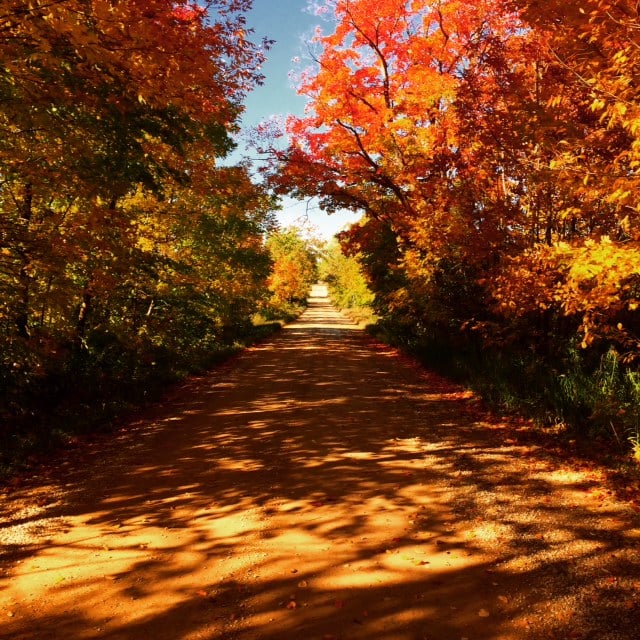 We all want to hold on to summer for as long as possible but school is back in, temperatures are beginning to drop and there are a conspicuous number of red and yellow leaves in my yard.  Fall is fast approaching!  Make the most of it and head out on a Grey County "Fall Colours Tour".  All you'll need is a camera, some comfy foot wear and a sense of adventure!  Take your time and take the opportunity to make pit-stops to explore small villages and independently owned local businesses.  You won't be sorry you did!
Grey Road 4 and Hwy 10 in Flesherton
Start your tour with freshly baked goodies and a steaming cup of coffee or tea at this popular shop on the main street of Flesherton.  Take my advice and grab some treats for the road (the lemon squares are a personal favourite but there is all manner of fresh and packaged food, bottled drinks ideal for the road and even freshly made selections you can take home for dinner) or take a seat and linger a while to enjoy the busy, upbeat atmosphere.
Durham sits at Hwys 6 & 10; access McGowan Falls off of George Street)
One of the stops on the popular Grey County Waterfall Tour, McGowan Fall offers a beautiful view and is easy to access, just off Grey Road 4 in Durham. Take the bridge across the falls for a stroll in Durham Conservation Area or follow the trails along the north side of the river.   Download your own copy of the waterfall tour here.
251 George Street East, Durham
While you're in the area, take a short walk through the village to this small town gallery which exhibits the work of local artists throughout the year.  With the goal of "inspiring, educating and delighting people of all ages through access to a wide range of contemporary art", the gallery is sure to provide a delightful way to spend some time on a crisp autumn afternoon.  Take a look at their website for hours of operation and an exhibit schedule.
52 14th Avenue, Hanover
This craft brewery is one of the stops on the ever-popular Grey County Saints and Sinners trail. Stop in at the tasting room, book a guided tour of the facilities or visit the new brewery shop where you'll find a fridge full of their latest ales, t-shirts and other items.  Don't forget to pick up a variety pack so you can take some of MacLean's finest home with you to enjoy later!
On Grey County Road 10, south of Hanover
Named "one of the ten prettiest communities in Canada" by Harrowsmith Country Life magazine, Neustadt is a charming rural village just outside of the larger town of Hanover.  Enjoy the fall colours while strolling the village's main thoroughfare, visit an array of specialty shops (think antiques and lovely handmade goods) and enjoy a meal at one of the charming eateries.  Time your visit so that you're in town for the annual Fall Fair (Sept 17-18 this year) and hang around to enjoy the Lions' Pork Chop and Chicken Dinner as well!
456 Jacob Street, Neustadt
While you're in the area, make a stop at Neustadt Springs Brewery where visitors are made welcome each day during operating hours (usually 10am – 6pm).  Plan ahead and book a guided tour of the historic building and underground caverns (on weekends only).  Visit this Saints and Sinners shop for a tasting and pick up some award winning brews to enjoy later on.
Various entry points throughout the town, see link for a trail map)
The Hanover trail is an easy-to-navigate network in the heart of the community and provides 11 km of trails suitable for all 4 seasons.  It is accessible from 7th Avenue North in Hanover and is popular with hikers, cyclists, snowshoers and cross-country skiers.  Enjoy the view from the pedestrian bridge over the Saugeen River and take the opportunity to visit some local boutiques in town to pick up a souvenir.
14 Sydenham Street (Hwy 10), Flesherton
Wrap up your long day's journey back in Flesherton with a delicious dinner at The Bicycle Cafe.  With a varied and creative menu, frequent live music performances and a homey, welcoming atmosphere, it's a great place to wrap up your Grey County adventure.  Open 11am until at least 8pm, Thursday through Sunday.  Cash or debit only, please.