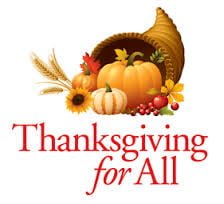 With Thanksgiving a few days away, most of us are starting to think about a nice dinner with friends or family.  Turkey or ham, maybe some mashed potatoes with gravy, some stuffing or roasted veggies and if we're lucky, pie for dessert.  There's something else we should all be thinking about that gets both more notice and more necessary at this time of the year…donating to our local food banks.
When we think about donating to a food bank some items spring to mind automatically…
baby food and formula
canned fish/meat (tuna, ham, turkey)
meals in a tin (pork and beans, stew)
canned fruit and vegetables
Pasta or Rice
There are other items though, that are in high demand at the food banks but because they aren't essentials, we don't often hear about a need for them.  A survey on Reddit.com asked food bank volunteers what items people would be most appreciative of and these all made the top 10, so if you're looking for an easy way to help out, pick some of these up while shopping and drop them off at one of our area food bank donation centres or in the bins that are provided at most grocery stores.
Spices – you can do more with fewer ingredients if you've got the means to boost flavour
Feminine Products and toiletries – these are both a necessity and an extra    expense for those on an already tight budget
Chocolate, cake mix, etc – everyone deserves a treat every now and then
Crackers and tortillas – non-perishable, easy and popular with kids
Baby supplies other than food – diapers, wipes, bottles, etc
Hearty soup packets – an easy way to provide a complete meal
Healthy cereal – both hot and cold
Pasta Sauce – lots of pasta is donated and who wants to eat it plain?
Canola or Olive oils – important for cooking, relatively healthy and not often donated
Wholegrain foods – consider picking up the most nutritious version of the items you plan to donate
Enjoy the long weekend (if you're lucky enough to get Monday off!) with your friends and family.  Have a great time celebrating Thanksgiving and just being together…and please remember to make a donation to a food bank so that those less fortunate than you can enjoy the holiday as well.