According to HGTV, when it comes to a full room make-over, kitchen renovations are the most popular form of remodeling undertaken by homeowners…and for good reason.  A minor kitchen refresh (under $20,000) often nets the best return on your investment when compared to other renovations in a home.  While motivations for this job can vary from installing the kitchen you've always wanted to getting your home spruced up for the resale market, there are 5 key areas to keep in mind that can help to ensure you get the biggest bang for your buck!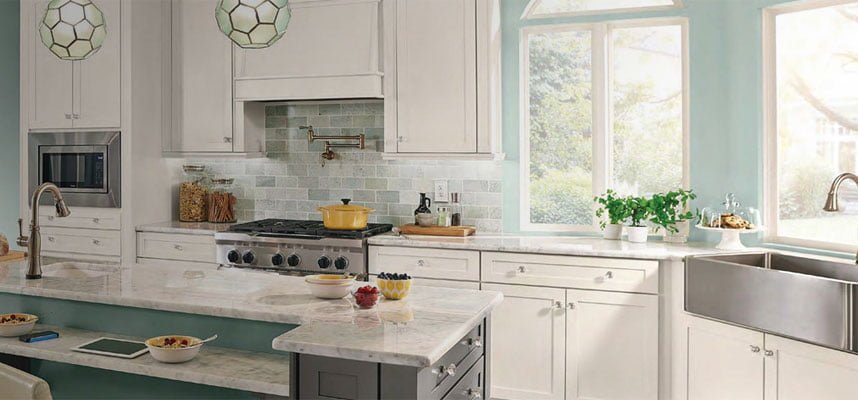 Open Storage Is Popular
While some question the practicality, open shelving seems to be the way to go with today's kitchen remodels.  The good news is that you don't have to go all in.  Consider removing a section of upper cabinets and replacing them with a couple of sturdy shelves used to store dishes or glasses that get regular use.  That way you'll be keeping up with current trends while you'll also see less dust collect on things than you would if those shelves held your good china that never gets used.  Lower level and pantry cabinets can be extremely efficient for storage when outfitted with sliding shelves, baskets and other containers that help you to use every inch of available space so you'll never miss the cupboards you got rid of.
Create A Welcoming Space
The kitchen is frequently described as the heart of the home, so why not make it a comfy, cozy room for your friends and family to gather in?  When space allows, provide some comfortable seating, place furniture to allow people to move around the room easily and configure a layout that includes a place for the kids to do their homework, friends to chat while dinner cooks on the stove and the family to hang out at the end of the day.

Effective Lighting
The light fixture hanging over the centre of the dining table is ubiquitous in most kitchens but lighting can be overlooked in other areas where it could be very useful.  Adding lights to the underside of any upper cabinets can brighten up counter-top work space while also adding ambiant lighting to the room.  The same goes for lights added the the inside of glass fronted cupboards; it highlights the contents (your grandmother's lovely tea set, of course) while also adding a layer of sophistication to the whole kitchen.
Update Your Appliances
Once your kitchen looks shiny and new, old and worn appliances will stick out like a sore thumb.  Replace older models, especially if they're no longer efficient.  When choosing your replacement pieces, keep the style of the home in mind so that the room feels cohesive within the home as a whole…and if you're remodeling to sell, resist the urge to go with high-end, top-of-the-line appliances which come at a higher price which won't be passed on to potential buyers.
Choose Colours and Styles Wisely
Lighter shades help to provide the illusion of openness but a white kitchen can be difficult to maintain when kids are young.  Consider incorporating patterns and choose a bold pattern for one element in the room.  The floor, the counter or an accent wall can all be used to create a point of visual interest in the room and can be a very practical option.  A (patterned) tile back splash is much easier to keep clean than a painted one and a brick floor (or brick-look) hides dust and dirt better than gleaming hardwood.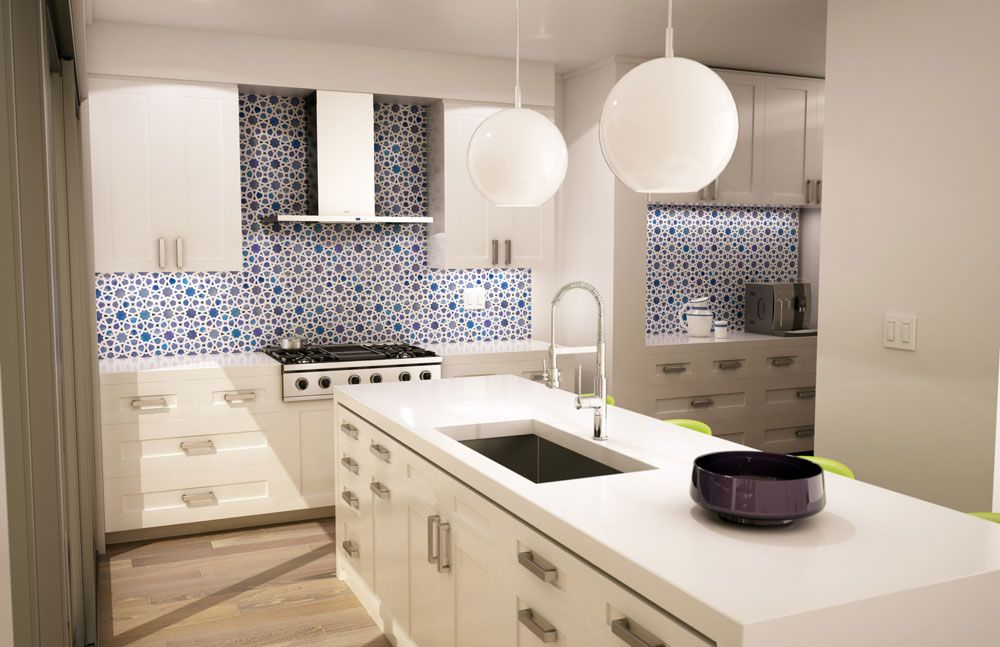 Dreaming about a kitchen renovation but wondering about the budget?  According to Money Sense, the average cost of a kitchen renovation in Canada in 2017 was $25,593.00 but a major overhaul can balloon to as much as $50,000 or more, depending on the choice of appliances and materials.  Again, if you're planning to sell in the near future, do what you can to stick to the lower end of that scale by choosing key elements to splurge on and strategic areas where you can save.
Want some guidance?  Here are average costs (again, provided by Money Sense) for the most commonly completed kitchen reno jobs:
new cabinets and counters            $7,500
refinished cabinets                         $3,800
stone counters                                $3,800
wood floor                                       $6,400
ceramic floor                                   $2,300