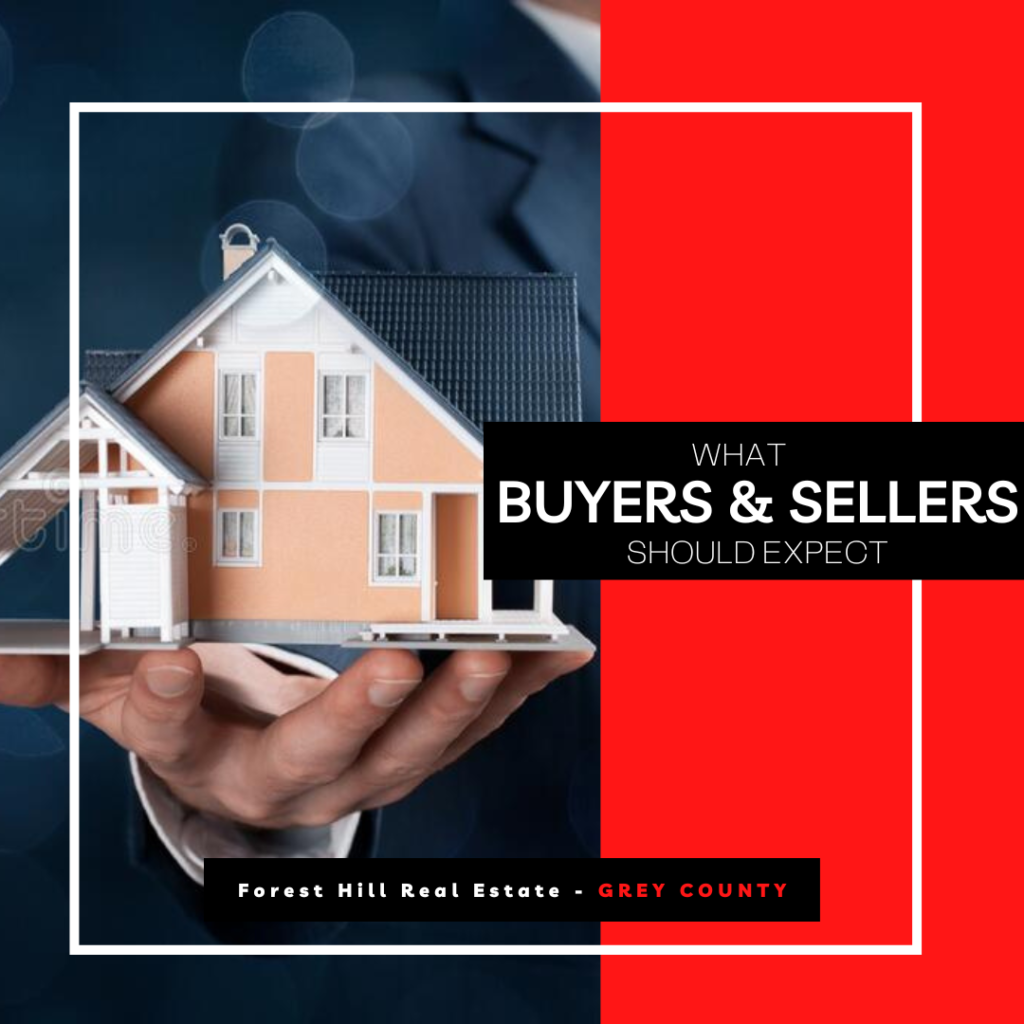 what sellers and buyers should expect
With the number of news headlines focused on mortgage rates these days, you could easily be tempted to believe that the real estate market as a whole has passed some kind of threshold and that it's only a matter of time before the bottom falls out completely. The truth is that the rate hikes put in place by the Bank of Canada in an attempt to bring a bit of balance to what were truly crazy market conditions have had an impact…but in Grey County we are not really seeing property values fall much, if at all.
Yes, sale prices may be lower than they were at the height of Covid, but those prices were never accurate and they were never sustainable. In reality, while local sale prices may have fallen by roughly 10% from the all-time highs we saw during the pandemic, most properties are still worth far more today than they ever were before. Read on to see what Sellers and Buyers should expect from today's real estate market.
space
So, is it the RIGHT time to buy or sell?
space
Some people seem surprised by the market correction we've seen in the last 6 months or so. Rates have gone up, prices have come down a bit and properties are once again taking more than a mere 24 hours to sell. Experienced Realtors® however, are not surprised at all. We know that the world of real estate is nothing if not changeable and the best defense is to make sure you are fully informed and relying on reliable information. Don't take your neighbour's interpretation of market activity as gospel, consult the experts to get a clear picture of what's really going on. The truth is that even though rates have definitely increased since the all time lows of 2021, they are still lower than they have been in years.
Current fixed rate mortgages vary from 4%-6%. When we bought out first house more than 25 years ago, relatives couldn't believe how lucky we were to be paying 5.25% for a 5 year fixed rate mortgage. They, of course, could remember the days of 18% rates back in the 80's! With that as your reference point, it's clear that today's rates are not as bad as some would have you believe. At Forest Hill – GREY COUNTY we've had a busy start to the year and we know first-hand that there are still plenty of buyers and sellers who are looking at the big picture.
space
What SELLERS should expect:
space
Preparation is key. Last year, you may have gotten away with selling your home without first sprucing it up for buyers. These days, if you want to sell at the top of your price range, you're going to need to put in some effort so that you appeal to as many potential buyers as possible. Cleaning, decluttering and updating your home are crucial to getting your property sold.
Prices have come down slightly. To put it plainly, you will are not going to sell for as much today as you could have in 2021. But the silver lining is that means you'll have to spend less when you're buying your new home as well.
The process may take longer than you expect. Some sellers still expect to sell their property within days of it hitting the market. While that may have been the case during Covid, that kind of market activity is not normal, especially for Grey County! There has been a definite balancing of the market since the beginning of the year which means properties are taking a bit longer to sell but homes that have chosen a fair asking price are still selling. Setting an accurate list price and being prepared to wait a short while for buyers will help to ensure your home sells.
You probably won't receive competing offers. A large part of the reason we saw multiple offers during Covid is that there were far fewer listings than buyers so those buyers were forced to compete for the homes they wanted, resulting in a lot of competing bids. Occasionally that does still happen, but not as frequently and usually for specific niche properties.
Seasons have returned to the market. The non-stop pace we saw during the Covid market could not last. Like every industry, real estate typically has busy seasons as well as slower ones. The spring market (up here that starts around April when the snow is almost gone) is generally quite active and we often see things slow down during summer vacation time. Then it gets bust again when the kids are back in school in the early fall and slows down over Christmas break.
A real estate agent is your best resource. Coming out of such a busy market, it may be tempting to try to sell your property on your own. The crazy Covid market made it look easy. How hard can it really be? Believe me, if you're doing it properly, it's not nearly as easy as it looks. Regardless of market conditions, statistics show that property owners sell for more when they are represented by a real estate agent. In addition, working with a respected and established Realtor® means less stress and legwork for you and is key to making sure you avoid costly mistakes.
space
What BUYERS should expect:
space
It may be harder to qualify for financing. Changing interest rates and the mortgage stress test (designed to protect you against rising interest rates and ensure you can afford your payments) may result in a lower pre-approval than you expect. Other things may be required too, such as a larger down payment or even a co-signer on your application. Visit your lender before you start looking at homes so that you know ahead of time what a reasonable price range is for you and if there are any obstacles in your way that need to be addressed first.
More listings and less competition among buyers. Higher sale prices and rising interest rates have made home ownership more difficult for many first-time buyers or those looking for vacation properties. Some buyers have had to put their plans on hold or adjust to a lower price range, which has resulted in a less competitive environment.
Conditional offers are back. At the height of Covid, a cash offer was almost a requirement if you wanted to make a successful bid on a property. Now that the market is more balanced, buyers generally have the opportunity to build a degree of protection into their offers by including a condition or two. Offers and conditions still have to be reasonable (or risk the seller simply declining your offer outright) but there is some room for a safeguard in a strong offer.
Market activity can be unpredictable. Some buyers are confidently holding out until prices drop back to pre-Covid levels. Who knows, that may even happen…but it's not likely. It's just as possible that winter weather and post-pandemic adjustments brought on a slight down-turn before the cost of housing rises again. It is impossible to predict future market activity and anyone who tells you they know what's going to happen with any certainty is simply foolish. It is always a mistake to try to time the market. The best time to buy a house is when it's right for you. That hasn't changed and probably never will.
space
THE GOOD NEWS:
what sellers and buyers should expect
Interest rates are still relatively low and are expected to fall a bit this year! And even if they did rise again, there are ways you can protect yourself. On your new mortgage or your next renewal, consider your fixed rate options. That way you can budget for your ongoing payment and won't have to monitor interest rates at all. If you're more comfortable risk, some good variable rates are available. Variables are usually lower but they change as bank rates do, so you should expect your payment to change from time to time.
One more thing: don't just accept whatever mortgage rate your bank offers, shop around. Lenders are always looking for new business. As frustrating as it can be, frequently a new client can get a discount that a long-time client can't. Speak with a mortgage broker to see what rates they can offer and which type of mortgage best suits you.
Whether you're buying a home or selling, use a local Realtor®. It's important to find an agent who knows the ins and outs of the neighbourhoods you're considering and the types of properties there. This really is the best way to avoid nasty surprises and costly oversights. At Forest Hill – GREY COUNTY we have lived and worked in the area for nearly 20 years so we know the charming small towns and villages like the backs of our hands. Contact us today, we'd be happy to help you with your next move!