Why its important to use a local realtor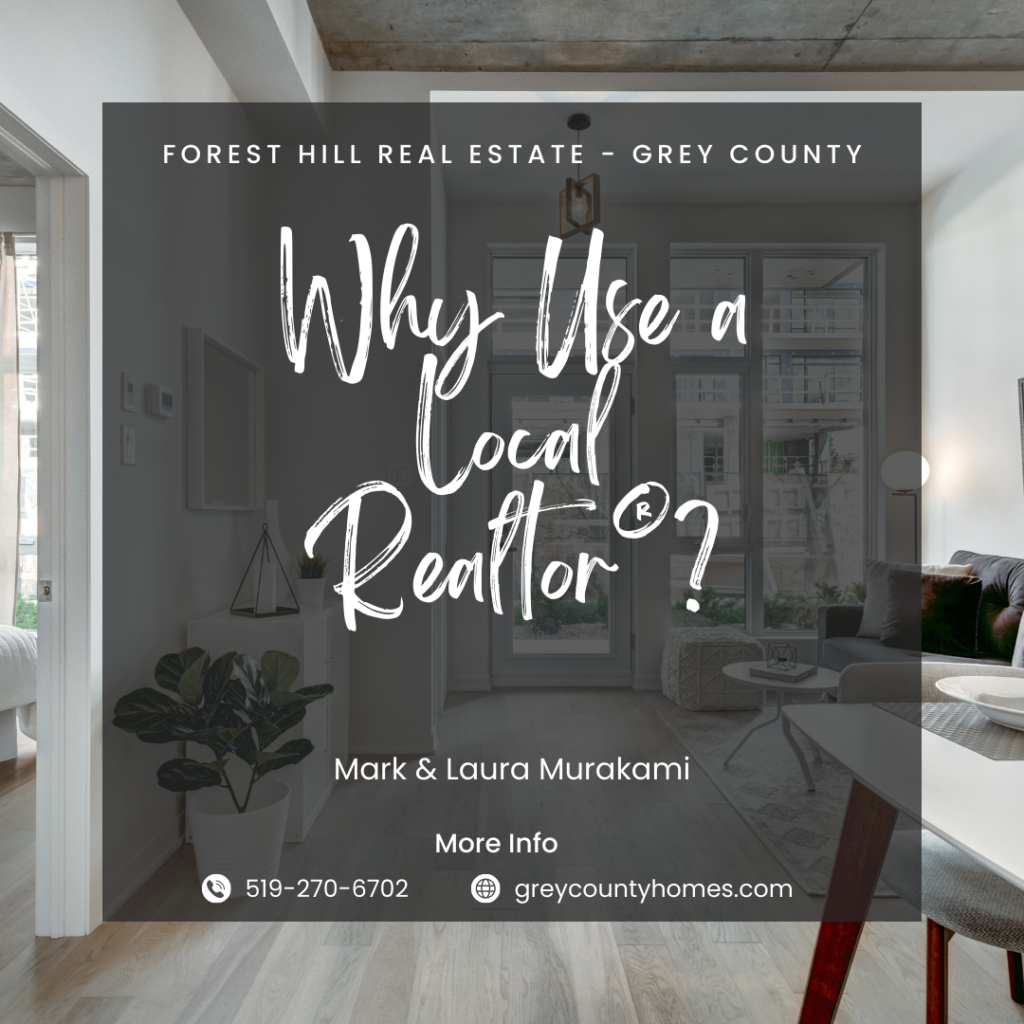 Why use a local Realtor®?
Without a doubt, when looking to buy or sell a home or property in Grey County, it is in your best interest to work with a LOCAL Realtor® or real estate team. Why won't your agent from the city do? There are many reasons it makes more sense to trust in the guidance of a local expert. Here are just a few:
Grey County is a unique market.
The Grey County real estate market is very unique. From ski chalets to lakeside cottages, hobby farms to cabins in the woods, small town settings to rural locations, Grey County runs the gamut! Our many outdoor attractions (swimming, boating, hiking, skiing, cycling and snowmobiling to name but a few) and a growing desire felt by many to leave the busy city behind have meant that our area has grown by leaps and bounds in just the last few years. Grey County is now home to people from all walks of life and as we can tell you first-hand (we were city transplants back in 2006), is friendly and welcoming to both full-time and part-time residents.
space
Local Realtors® know the market inside and out because we live it every day.
An out-of-town agent can look up property information online for you but these days you can do that for yourself. With just a little effort, you can find information like sale prices and benchmark prices quite easily. A local Realtor®, however, will get you more information than just the basics. Grey County agents know about Grey County properties. Whether it's wells, septic systems, zoning designations, future development or school bus routes. We know about all the details that help to ensure the property you're considering is a perfect fit. Will an agent from the city be familiar enough to be able to answer questions about septic systems for you? We can tell you from experience that many don't even know which questions to ask!
space
You're not just a number to a local Realtor®
Anyone with a license can provide you with listing or offer paperwork. In a big city environment, effective real estate agents have access to a very large number of anonymous new clients. That often leads to a lack of personalized service and attention to detail. In our small-town setting, word travels fast. If you're not providing good service, you won't stay busy and you won't last. Luckily, the reverse is also true. If your clients find your service valuable, they'll be sure to tell others. At Forest Hill – GREY COUNTY, we go above and beyond for every client, every time. We strive to provide award-winning customer service to both buyers and sellers. We're proud to say that a good chunk of our business comes from repeat clients and referrals. Many of our clients have become good friends. If they trust us enough to recommend us to their friends and family, we must be doing something right!
space
At Forest Hill – GREY COUNTY, we really do have a different approach to real estate
At Forest Hill – GREY COUNTY, we'll help you find the right property. We'll also work hard to make sure the process is as smooth and seamless as possible. We don't operate this way because we're in a hurry to book a sale. We do it because we take pride in our work. Grey County is a wonderful place to live and we are happy to introduce others to the neighbourhood. Living and working in small, rural communities fosters a true sense of community that can be hard to find in a big city. Once you're settled in and know your neighbours, there won't be any such thing as a quick trip to town. You may only spend 5 minutes running errands but you'll need half an hour to say hello to everyone you meet along the way! Community is important and we want to welcome you to ours.
If you're thinking about buying or selling in and around Grey County, we would be happy to help you. Contact Mark and Laura Murakami at Forest Hill – GREY COUNTY (519-270-6702) to see what we can do for you today!