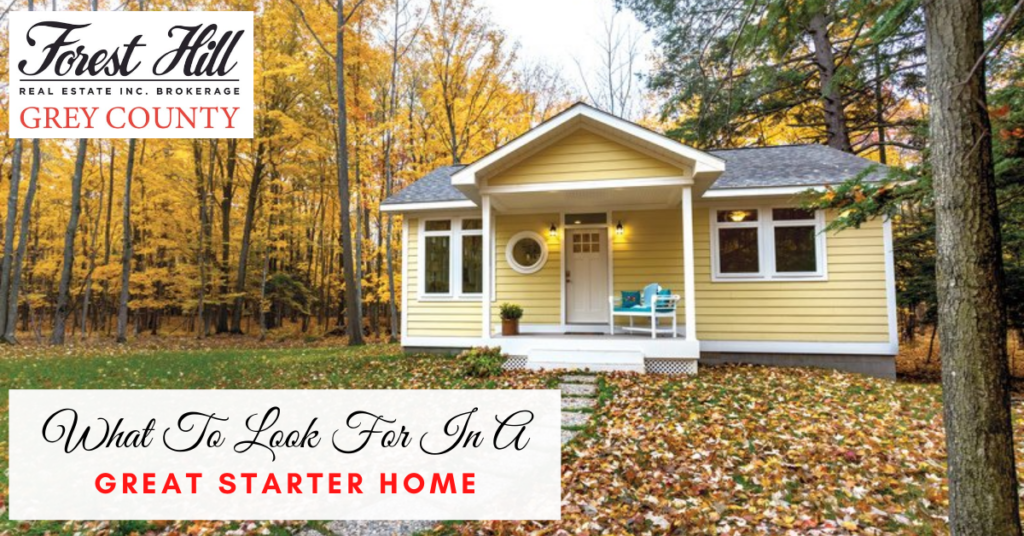 You've been scrimping and saving for years and you're ready to buy your first home. What should you look for in a great starter home? Starter homes are often thought of as kind of temporary: its not your "forever home", its a comfortable place for you to enter the real estate market, learn what it's like to be responsible for your own property and hopefully build some equity that could get you closer to eventually owning your dream home some day. Unfortunately, it is often difficult for first-time home buyers to find a home that offers the features and amenities they want at an affordable price and without the burden of excess repairs or maintenance. And due to a lack of experience as a homeowner, properties that could make for an excellent starter home get overlooked. So, what should you be on the look out for when the time comes to search for your first home? There are some key points to keep in mind…
Budget
The biggest element in deciding which home you purchase is also one that people don't like to talk about. It's not enough to go looking for all of the features you want, you have to actually be able to afford to pay for them! Go to your lender to get pre-approved for a mortgage. That will give you a clear budget and outline any issues that you may face in getting a firm approval on a mortgage so that when you do find that perfect place, you are able to move ahead with the purchase quickly and with confidence. Don't forget to include things like property insurance, taxes, our ever-increasing hydro bills and heating costs in your calculations.
Ideal Location
By now you will have heard about the most important factors affecting your purchase:  location, location, location!  This sentiment rings true for starter homes too.  What makes a good location?  You need to consider resale value but there's more to it than that.  Think about practicalities like which school neighbourhood kids attend, your daily commute and the extras like amenities – are there any attractions, restaurants or stores nearby?  You want to be happy not only in your home, but also in your neighbourhood. When you have an idea of what you want in a home you can search Grey Highlands neighbourhoods here.
Low Maintenance Costs
You may think you're aware of all of the expenses that come with owning a home, but every home owner has been surprised by expenses they didn't count on. Particularly here in Grey County, you may need to factor in things such as snow removal, well/septic maintenance and up-keep for lawn tractors or other large pieces of equipment. Then there are costs associated with the care of the outside of your property.
One way to combat high maintenance costs is to look for a starter home on a smaller lot. You don't want to spend all of your free time working on maintenance and repairs on your property, you want to have free time to enjoy it! Remember, you're not yet buying your dream home, you're just starting out. Another positive to a smaller property? It should also mean more manageable mortgage payments, which should make these extra costs easier to bear.
Manageable Care and Upgrade Costs
Can you handle what it will cost to care for your new home? Can you do the work yourself or will you have to pay for someone else's services? Simple rule of thumb: if you're not that handy or won't have the time to devote to a list of repairs, don't buy a fixer-upper. In my opinion, first time homeowners should consider purchasing something relatively "turn-key". That way you have the chance to deal with minor repairs as they become necessary and to learn some tricks along the way, instead of starting out with a list of difficult, time consuming and expensive jobs that have to be done as quickly as possible. Don't be fooled, working on your home is not as quick, easy and inexpensive as it can look on HGTV or Pinterest!
If you're handy or happen to have a contractor or some tradesmen in the family, a fixer-upper may be a viable option. But if this is your first attempt at home improvement, stick with a home that's more "move-in-ready" and needs just one or two upgrades that you can attempt yourself…think new backsplash, maybe painting kitchen cupboards or replacing the ceiling fans. And again, have a budget in mind. You'd be surprised how quickly funds can be spent when you're working to improve your prized possession!