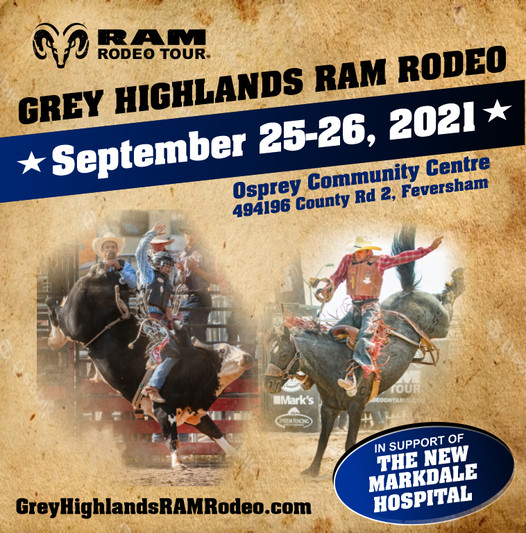 Cowboys and cowgirls, it's the moment you've all been waiting for – the Grey Highlands RAM Rodeo!

It's time to dust off your boots, put your cowboy hat on and saddle up because the RAM Rodeo Tour is heading to the Osprey Community Centre in Feversham! (Can we get a YEE-HAW?!) The Grey Highlands RAM Rodeo will showcase two days of the live action packed sport of rodeo to Grey Highlands region, just as seen at the Calgary Stampede. Each rodeo performance will feature some of Canada's top cowboys and cowgirls compete in standard rodeo events like barrel racing, bronco riding, pole bending and the world's most dangerous sport-bull riding. 


Tickets can be purchased in advance online at

www.ticketweb.ca
or by calling 1-888-222-6608.

Advance tickets get discounted pricing: $20 Adult $10 Youth Kids under 5 FREE

Tickets are also available at the gate: $25 Adult $15 Youth $5 Kids under 5
Events run from noon until 8pm on both Saturday and Sunday.

Located at the Osprey Community Centre
494196 County Road 2 (off of Grey Road 4, east of Flesherton)
This event runs rain or shine, no refunds