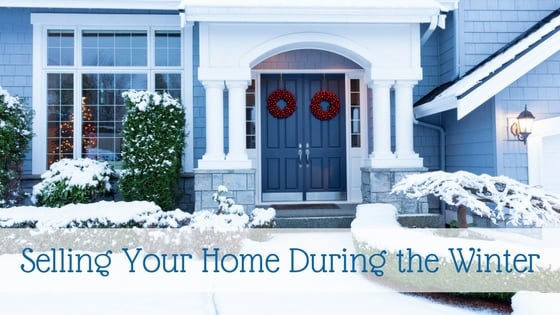 We've been lucky to have enjoyed milder weather for longer than normal in Grey County this year, but winter seems to have arrived.  For many, that means thoughts of buying or selling a home fade into the background until the spring.  But why wait?  The winter can be a great time to put market conditions to work for you.  Here are 4 great reasons to consider buying or selling during the winter months.
FEWER BUYERS/SELLERS MEANS LESS COMPETITION
There may be fewer properties for sale during the winter months, but that's ok because traditionally, there are fewer buyers as well.  For buyers, that translates to less time spent weeding through properties to find the one that's right for you, as well as less competition when you find one you're interested in.  For sellers, increased odds that the person looking at your property is ready to act if they decide your home is the one they want.  Isn't that exactly what you'd prefer?
EFFECTIVE LIST PRICES
Fewer prospective buyers means that sellers have a smaller audience to market their property to.  Because no one wants to miss an opportunity to sell, properties are more likely to be accurately priced than during the spring and summer months.  Warm weather months are more likely to bring in a higher number of potential buyers so there's sometimes room for a little bit of risk associated with a higher asking price.  In a slower winter market, if an asking price is too high, a seller simply won't get any traffic.  Most real estate agents will be more likely to encourage their sellers to list at market value (or at least closer to it) to increase the odds of a sale, which again, is what everyone wants.
MORE FLEXIBILITY WITH PURCHASE CONDITIONS 
When buyers and therefore offers to purchase are more likely to be seen in smaller numbers, a seller might feel more inclined to consider some reasonable conditions attached to an offer to purchase.  Purchases based on "Sale Of Buyer's Property", for example could be viewed more favourably during the winter when a seller doesn't have another offer waiting in the wings to see how yours plays out.  Purchase conditions still need to be reasonable, of course, but buying a house during the winter may give you the time you need to tidy up loose ends and still get your purchase closed just in time for warmer weather.  And the upside for a seller?  You're more likely to be dealing with serious buyers and won't be wasting time on people who are just testing the waters.
RELATED SERVICES READILY AVAILABLE
Real Estate isn't the only area that sees a slowing in market activity during the coldest of the winter months.  Often, related industries (home inspectors, real estate lawyers, etc) follow the same patterns of activity, which could make those services more readily available for you.  That should, in turn, make for a smoother, less stressful transaction for both buyers and sellers.
Don't wait for the spring to enter the real estate market, winter can be a great time to buy or sell a home.  Why not take advantage of favourable market conditions and get a leg up on the competition?  If you have any questions about real estate, would like to view specific properties or would like me to help you find your next home or property, please don't hesitate to give me a call.